Significant Composition appears on CD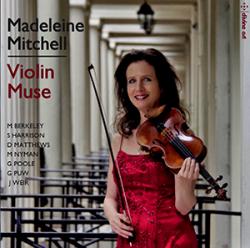 A major orchestral piece composed by Guto Pryderi Puw is included on the latest CD by celebrated violinist, Madeleine Mitchell.
Acclaimed as one of the foremost Welsh composers, Guto Pryderi Puw is also Head of Composition and Senior Lecturer at Bangor University's School of Music and was commissioned by Madeleine Mitchell to write a concerto to be premiered at the Bangor Music Festival in 2014. The work, Violin Concerto - Soft Stillness was inspired by quotes taken from Shakespeare's Merchant of Venice to mark the author's 450th anniversary year.
The concerto is one of five especially commissioned pieces by Mitchell that will be featured on the new CD, titled Violin Muse and released on 20 October on the Divine Art label. Madeleine Mitchell's live recording of the Concerto has been taken from her concert with the BBC National Orchestra of Wales at the Vale of Glamorgan Festival in May 2014. Other featured compositions are by well-known composers Michael Nyman, Michael Berkley, Judith Weir, Sadie Harrison, David Matthews and Geoffrey Poole.
Guto Pryderi Puw said:
"When Madeleine approached me around 2009, it was decided that I would write a concerto and the only request that she had was for "a lyrical piece with no fifths!" Five years later that is exactly what she received! Although the concerto has some very tricky rhythmic passages in the first movement, which has been masterfully played on this CD, there are many expressive melodies that float above the orchestral accompaniment. In addition, the lyrical solo part in the calmer final movement takes centre stage, but this time supported by a more static accompanying harmonies. Madeleine's expressive interpretation of the piece on the CD is sensational. I'm also delighted that my Concerto has been included alongside works by such renowned composers, which shows Madeleine Mitchell's commitment to commissioning and performing new works over the years."
The celebrated composer Paul Mealor has hailed the Concerto to be "a distinguished, emotionally powerful, notable and substantial work that presents both a virtuosic challenge to the soloists in many sections, and a pleasurable listening experience, especially in the more lyrical 2nd movement."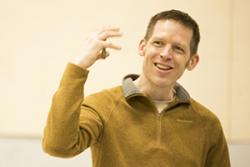 As one of the most respected Welsh composers of his generation and a key figure in current Welsh music, Puw has won several Awards, including the Listener's Award at the British Composer Awards in 2007 and the Sir Geraint Evans Award by the Welsh Music Guild in 2013. He was also BBC NOW's first Composer in Residence between 2006-10 and has received a number of significant commissions, including '…onyt agoraf y drws…' for the 2007 Proms. His recent commission by Music Theatre Wales and Theatr Genedlaethol Cymru has been the reworking of the Welsh play, Y Tŵr by Gwenlyn Parry as a three-act chamber opera, with libretto by Gwyneth Glyn. This, the first opera in the Welsh language commissioned for professional musicians, recently toured Wales and the UK to critical acclaim. He is currently working on another large-scale commission for the BBC NOW to be premiered in Hoddinott Hall on 28 March 2018.
Madeleine Mitchell's Violin Muse CD has a London launch on 25 October which is open to the public (free but tickets via http://www.rcm.ac.uk/events/listings/details/?id=1099670).
Publication date: 23 October 2017