Successful workshop on careers in the Nuclear industry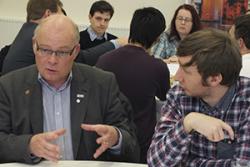 Richard Foxhall, Horizon Nuclear Power's local Stakeholder Relations Manager was also present to discuss with students at the Nuclear Careers Workshop held recently.Over 70 students from a range of disciplines including engineering, chemistry, environmental science, business, law, psychology and geography came together at a workshop held recently at Bangor University to learn about careers in the nuclear industry. The workshop was held in partnership with Horizon Nuclear Power, National Skills Academy for Nuclear (NSAN), and the Nuclear Graduates Programme.
Building on its involvement in the Anglesey Energy Island initiative, the workshop was the first event organised for students by the University following the recent signing of a formal Memorandum of Understanding between Bangor University and Horizon Nuclear Power.
Raising awareness of future local employment opportunities, the event focused on the skills needed by the University's graduates to pursue future careers in the United Kingdom's growing nuclear energy sector.
Chris Little, Head of Bangor University's Careers and Employability Service said:
"At Bangor University, we place great weight on providing our graduates with opportunities to acquire skills and attributes, above and beyond their academic qualifications, which make them more rounded individuals and helps them to stand out and compete more effectively for jobs once they have completed their studies.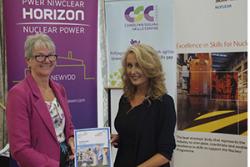 Alison Hunt, Regional Manager – Wales National Skills Academy Nuclear congratulates Jessica Roberts from the School of Law on her selection for one of NSAN's Triple Bar accreditations. We are extremely grateful to our partners from the nuclear industry for taking time to work with our students to raise awareness of an industry that has something to offer graduates from the diverse range of disciplines taught at Bangor University as well as the skill-sets they need to engage successfully in the nuclear sector"
With Horizon Nuclear Power already making substantial investments at its Wylfa Newydd site on Anglesey, Richard Foxhall, Horizon Nuclear Power's local Stakeholder Relations Manager said:
"We were very pleased to support this event, and I was delighted to see so much interest in the Wylfa Newydd project. Horizon is committed to raising awareness of the future career opportunities Wylfa Newydd will bring to North Wales. We want to grow our workforce locally and this event was really beneficial to graduates who are interested in a future career in the nuclear industry, either with Horizon locally, in the supply chain or further afield."
NSAN have played a vital role in recent years in helping Bangor University shape its thinking on potential nuclear skills for its graduates. Allison Hunt, NSAN's Wales Regional Manager, herself a former Bangor University Forestry and Soil Science graduate, said:
"Wylfa Newydd will require a huge range of nuclear, engineering, construction and organisational skills. It is great to be involved with such a collaborative event to raise awareness of long term career opportunities, not just locally but on a wider scale, across the planned UK nuclear programme, which will require an intake of 8600 people per year over the next 7 years. NSAN is hugely supportive of organisations like Horizon Nuclear Power in developing attraction strategies, at a local and national level, to ensure that a pipeline of skilled workers will be available for projects during both construction and operation".
Emily Riley from the School of Ocean Sciences was also selected for the industry recognised accreditation needed to work on existing nuclear sites in the UK. At the event, Bangor University students also had an opportunity to meet and talk to graduates who have recently entered the industry. Ross Murison, a Rolls Royce sponsored graduate, and Kevin O'Donoghue, sponsored by RWM, both on the Nuclear Graduates Programme, outlined for students how they had made their career choices and how essential wider problem solving skills, business awareness and adaptability are for graduates hoping to enter and succeed in the nuclear industry.
Two fortunate students, Jessica Roberts from the School of Law and Emily Riley from the School of Ocean Science were also selected at the event to undertake one of NSAN's Triple Bar accreditation at Coleg Llandrillo Menai. The training and the proficiency test that they will undertake, funded via the University's Cadarn Skills Centre work-based learning project, will give them an industry recognised accreditation needed to work on existing nuclear sites in the UK.
Publication date: 12 May 2015