UK-China Centre for Public Procurement Law Research
On July 1, 2014, Bangor University and CUPL, China's largest Law university, signed a Memorandum of Cooperation to launch a new joint procurement law research centre, the Centre for Public Procurement Law Studies. The Centre will engage in joint research into a field of major significance not just for UK-China relations, but also for the global economy, as China's public procurement market contemplates to what degree should they open up to foreign competition in the years to come.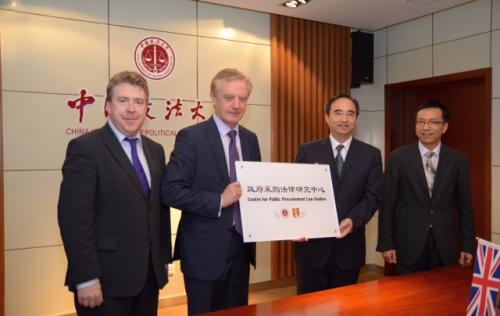 L-R: Prof. Dermot Cahill, Head of Bangor Law School; Bangor University Vice Chancellor, Prof. John G Hughes; Prof. Jin Huang,President of CUPL; and Prof. Tao Zeng, Vice Dean of International Education, CUPL
Announcing the appointment of Professor Dermot Cahill and Professor Tao Zeng as the UK and China Directors of the new Centre, Bangor University's Vice Chancellor Professor John Hughes observed that with Bangor's leading reputation in public procurement law studies, he was delighted that the superb research teams of Bangor and CUPL were proceeding to work together on issues of mutual interest that are of importance to the global procurement economy. Professor Hughes's congratulations were joined by Professor Huang Jin, President of CUPL, who expressed his delight that Bangor/CUPL cooperation, already firmly established with Bangor's Confucius Institute, is now intensifying with the launch of the new joint procurement research Centre.
Madame Ying Wang, the Director of the Department of Public Procurement at the Chinese Ministry of Finance, welcomed the launch, offering strong support from the Chinese Government for the new Centre, and offered to engage strongly with the Centre as a resource to help the Chinese Government proceed with plans to reform its procurement laws and prepare for the Government Procurement Agreement global procurement negotiations.
Professor Cahill confirmed that Bangor's major annual five day procurement week conference, Procurement Week 2015, will feature a dedicated session on China procurement issues, and that he will invite CUPL procurement researchers and Ministry officials to sit with global experts to contribute to the ongoing debate, which is of tremendous significance for the world economy. Over 20 Research Fellows from Bangor and CUPL were nominated to support the work of the new Centre, which will also help advise Chinese and UK enterprises on Chinese procurement issues.
Welcoming Professor Zeng to Bangor in August 2014, Professor Cahill said it was a privilege to now be working alongside such a brilliant scholar as Tao Zeng and he was confident that joint research bids and publications would result from the cooperation under the new Centre.
Publication date: 8 August 2014