Undergraduate research published in a scientific journal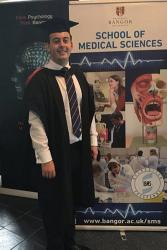 James has now graduated from Bangor University with a degree in Medical Sciences.James Edwards has seen his final year dissertation work at Bangor University published in Acupuncture in Medicine.
James, now 23 and studying dentistry, researched the effectiveness of acupuncture for nerve pain in the face. He compared treatment outcomes for acupuncture against drug therapy and surgery.
His study showed that it was less risky, less expensive and less stressful to the people having this treatment option, though the small study size limited James's ability to definitively prove that acupuncture was better than other options.
"This final year project certainly adds to the body of studies into acupuncture for this type of facial pain, with some positive results. We are always delighted when Bangor University undergraduates produce work of such high calibre that they are suitable for peer-reviewed publication," said dissertation supervisor Lecturer Vivien Shaw at Bangor University's School pf Medical Sciences.
James, who attended Royal Grammar School, High Wycombe, studied Medical Sciences (BMedSci) at Bangor University and is now studying a graduate-entry dentistry degree at University of Central Lancashire.
The degree at Bangor was the perfect degree to go on to study dentistry. James says: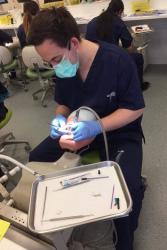 James' degree from Bangor was perfect for his graduate-entry dentistry degree. "It gave me the knowledge, study skills and practical skills that I otherwise wouldn't have had- if I hadn't come to Bangor first, I wouldn't have coped, because the dentistry workload is so heavy."
James realized that the BMedSci course has a really strong curriculum and offers some excellent learning opportunities, including teaching by clinicians, and regular practical sessions in the anatomy wet lab. This makes the course a very effective steppingstone into further study for a clinical career.
Currently in his second of the four-year dentistry degree, James says:
"It's a brilliant feeling to have my research published. It validates a lot of hard work that went into the research, followed by editing a 10,000 word document into a 4,000 word document suitable for peer-review. I'm beyond grateful to Vivien Shaw who supervised my dissertation, helped me edit the paper and showed me how to refine it for publication."
Publication date: 10 June 2020