This year, in a pilot scheme funded by the Welsh Government, three students in their first year studying the Childhood and Youth Studies degree programme through the medium of Welsh will have the opportunity to study the Level 3 qualification Care, Play, Learning and Children's Development whilst studying for their degree.
This collaboration responds to the growing demand for bilingual staff in the care and education of young children, and the challenge of recruiting individuals who speak Welsh and have the necessary qualifications.
"We are very proud to be working together in this way with the Mudiad, which has done so much over the years to maintain Welsh-language education and care for our youngest children. In this way, our students will leave university with a degree and professional qualification, and as such, they will be highly employable in the Welsh-medium children's workforce, which is good for them and good for the sector," explains Rhian Tomos, lecturer in Childhood and Youth Studies at Bangor University's School of Education Sciences.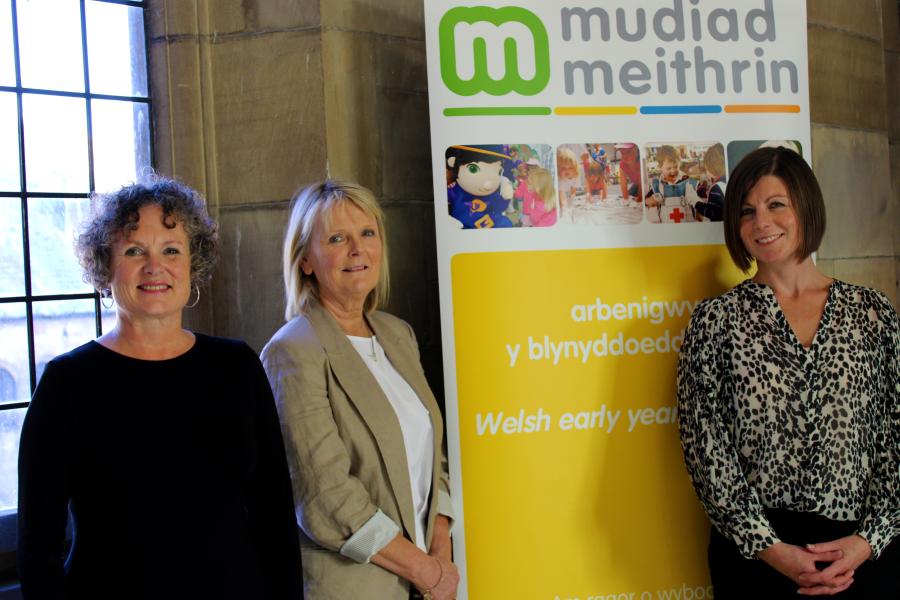 The students will work in day to day early years care settings as part of the training, gaining practical experience in a Cylch Meithrin or Day Nursery, and deepening their understanding and knowledge of children's development and needs.
Dr Gwenllian Lansdown Davies, Chief Executive of Mudiad Meithrin, said, "We are very proud of this new opportunity to work alongside Bangor University. The quality and standard of our Cam wrth Gam National Training Plan is consistently high with excellent reports from WJEC and City and Guilds external verifiers, reflecting the professionalism of our assessors in supporting our learners, and the quality of their work."
"Through this programme with Bangor University we will be able to offer more opportunities for learners to gain their Level 3 qualification in Care, Play, Learning and Child Development. This will benefit our Cylchoedd Meithrin and our day nurseries, and therefore ultimately support all young children in our communities".
Professor Andrew Edwards, Pro-Vice-Chancellor with responsibility for the Welsh language and civic mision added, "This development emphasises Bangor University's commitment to providing rich learning experiences for our students. Through programmes of this kind, students have the opportunity to expand their understanding and gain valuable workplace qualifications, as well as making a contribution to the growth of the Welsh language amongst children."