Bangor University is once again leading the field in developing bilingual teaching resources as it publishes a new multimedia eBook on Social Inequalities in partnership with Coleg Cymraeg Cenedlaethol.
It includes statistics on how the COVID-19 pandemic has highlighted some of the social inequalities which exist in Wales, and some of the interventions being put in place to tackle them.
According to the Welsh Government, 24% of the Welsh population were living in relative income poverty between 2015-16 and 2017-18, more than 1 in 5 of the population, and poverty in Wales is higher than the level of poverty in the UK, with only London having higher levels of poverty than Wales.
The last fifteen months have brought the social inequalities that exist throughout the world into sharp relief, whether those are on the basis of social class, sex, ethnicity, age, health or geographical location. This ebook offers those studying through the medium of Welsh an opportunity to examine the topic with a particular focus on Welsh statistics, to understand the topic from a Welsh perspective."
The authors with the new resource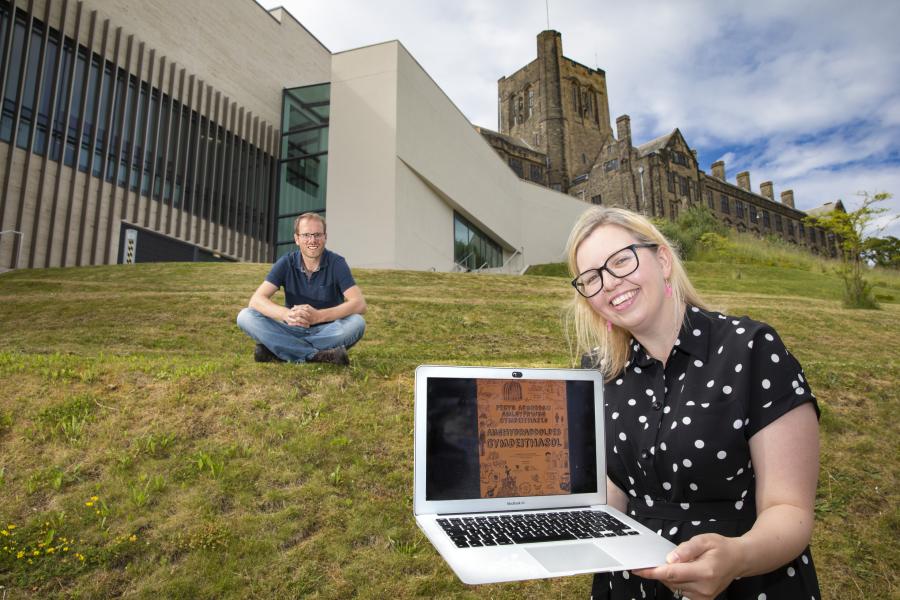 After offering a short introduction to how inequality is discussed within sociology, the ebook explores factors which influence social inequality and provides links to the latest statistics from Wales.
It introduces topics such as zero-hour contracts and the increasing use of food banks not only by the unemployed but by working people, an area of research by Dr Hefin Gwilym of Bangor University.
It also highlights the ways in which society is challenging social inequalities through campaigns such as Black Lives Matter.
Addressing the link between poverty and educational attainment, the resource cities work by other academics at Bangor (ap Gruffudd et al) whose research discusses the relationship between educational achievement and poverty in rural areas of Wales.  The research notes that tackling poverty in Wales is complex and requires consideration of a number of issues amongst them cultural factors, the aspirations of parents, benefits culture, and the fact that many parents are working long hours in low-paid jobs and suggests ways of supporting children and improving attainment.
The Social Inequalities ebook is part of a series of multimedia Welsh language resources for those studying A Level Sociology and first year students studying the social sciences at undergraduate level and has proved particularly popular as A level and undergraduate students have been learning from home.
"The resources are designed to work on a screen, with humorous cartoons by Huw Aaron breaking up the text and links to videos," adds Dr Prys. "We've had some great feedback from schools throughout Wales, as there is a shortage of resources out there in the Welsh language.
Even if schools are able to teach A level Sociology in Welsh, often they're having to teach using English textbooks and that's not ideal for the teacher or the student. I think we're all more conscious of the need to produce resources that fire up the imagination and get our students passionate about their subjects. Also, using specific examples relating to Wales makes it all very relevant - and hopefully encourages more students to take an interest in the field and go on to a career in the field of social work in Wales or further afield.