First 'Women in Science' scholarship recipient graduates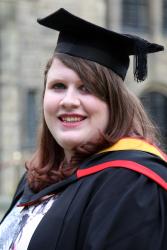 Elizabeth McManusThe recipient of Bangor University's first, innovative 'Women in Science' scholarship graduated with a Masters degree in Neuroimaging with distinction this week.
Elizabeth McManus, 23, from Bolton graduated from the School of Psychology with a first class BSc Psychology with Neuropsychology degree in July 2015 and was the first ever recipient of the Bangor University 'Women in Science' bursary which enabled her to study at postgraduate level.
Elizabeth graduated with distinctions in all modules and her dissertation, said: "It feels incredible to be graduating and this is the prefect end to my four years at Bangor. Being awarded the Athena Swan Women in Science scholarship not only boosted my CV and helped during applications, but also greatly increased my own self-belief and confidence in my own abilities. Knowing people believe that you can do well has amazing effects on what you can do."
While studying, Elizabeth worked as a trampoline coach for the Bangoroo's Tramploline club, a local children's club. She also worked as a Rebound Therapist at Ysgol y Gogarth in Llandudno, working with children with a wide range of additional needs, such as autism, learning disorders. She said: "For me, working coaching jobs while I was studying was not only a great way to earn some extra money, but was incredibly fun and a great stress release."
"Bangor University provided me with many career enhancing opportunities, during my undergraduate years took part in a summer research internship programme within the School of Psychology. As part of the scheme I spent eight weeks working in a lab environment creating stimuli and running experiments while assisting my supervisor and other postgraduate students. This experience helped greatly during PhD applications."
Elizabeth has just started a BBSRC funded PhD at the University of Manchester and hopes to work in Neuroimaging research in the future.
Related stories:
Bangor University awards its first 'Women in Science' scholarship
Publication date: 15 December 2016