Gerallt's turn in the limelight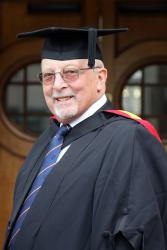 Gerallt LlewelynA renowned local photographer and former Gwynedd County Councillor proudly graduated from Bangor University this week.
Gerallt Llewelyn, 68, from Carmel, Caernarfon graduated with a first class BA (Hons) Combined Studies degree. Gerallt has been married to Nerys for 45 years and has two daughters and six grandchildren.
With over 35 years' experience as a professional photographer, covering everything from major events to weddings, Gerallt has also worked extensively in the film and TV, press and public relations industries. He has photographed many events and graduation ceremonies for the University over the years, but during this graduation ceremony, it was Gerallt's turn to be in the limelight.
Gerallt said: "I'm very proud, relieved and happy to be graduating. I've wanted to study for a degree for a long time and had always felt inspired whilst I've been photographing various events at Bangor University.
"I really enjoyed the course and worked on interesting projects such as looking back on America in the 60s - the Cuba Crisis and Kennedy's death, the Thatcher era and the miners' strike, which I remember well.
"The highlight of the degree was working on the final dissertation, which was about the work and life of Caernarfonshire quarrymen 1850-1905. I focused on the Penrhyn strike during 1900-03 - a class war and Lord Penrhyn's stubbornness. I asked the question whether the strike should have ended after a year as it was an impossible battle to win, causing animosity in the area for many years. I also looked at the death of my great grandfather who died in an accident at Dinorwig quarry and the fact that the family and other quarrymen were not as poor as traditionally portrayed."
"During my studies, I was diagnosed with prostate cancer in March 2015 and it spread to my spinal column last summer. I've received lots of treatment and had a period of difficulty walking and with my co-ordination for a while. Although this was a difficult time, I was even more determined to complete my degree.
"I'm very grateful to the University for all their support and positive encouragement throughout my studies. The experience has been very enjoyable am I'm delighted to be graduating."
Publication date: 15 December 2016