Graduation Profile: Ann-Sophie Warkentin
Ann-Sophie Warkentin, 25, from Bad Bramstedt – Germany, came to Bangor to earn her MScRes in Biological Sciences and BSc in Zoology with Animal Behaviour
"Ann-Sophie was my first postgraduate student to complete her dissertation with the Zanzibar Red Colobus Project. She came to Zanzibar at a key moment at the start of this project and so played an important role in getting our long-term work going. Her research on the effects of tourism on the behaviour of the colobus revealed some interesting patterns and will lead to further studies on this important topic."

Dr Alexander V. GeorgievLecturer in Biology (Primates)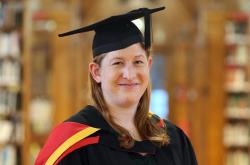 What are your thoughts having just graduated?
It still feels quite surreal as I have been studying at Bangor since September 2015 and I feel that a huge chapter of my life is now finished. On reflection, I am excited to see how far I've come.
Can you tell us about your background?
Since attending college in Germany, I have always had a passion for biology. I was especially interested in zoology and wanted to learn more about it; leading me to complete my undergraduate degree in Zoology with Animal Behaviour. I really enjoyed the course, and wanted to take my studies further, so I decided to join the MScRes Biological Sciences course.
Why Bangor?
When researching universities, I talked to someone who was studying Zoology at Bangor, which made me want to see the place for myself. While I was not able to travel to an Open Day, I did receive a warm welcome, and even got a chance to talk to my head of department about the course options, entry requirements and life as a student. The cosy atmosphere of Bangor, being a small city, helped to make me feel at home, and the very specific course options fully persuaded me.
What did you do outside of lecturers?
I was a member of the Zoological Society which organised great talks every week, they are really inclusive and provide a good opportunity to hear about new things relevant to everyone's subject areas. I also enjoyed the occasional walk with the Mountain Walking society and discovered a new hobby through a club – archery!
During my undergrad I was able to go back to Germany and work with a governmental organisation for my dissertation. We set up camera traps to try and find an endangered small mammal, which was a great opportunity to gain more experience supporting my studies.
During my masters, I went to Zanzibar where I spent four months doing fieldwork. I studied the effects of tourism on the endangered Zanzibar red colobus monkey. That same summer, I was also able to join the Uganda Field Course which focused on primates, including seeing chimpanzees in the wild! As someone who has come to love primates, Bangor provided so many options to get real hands on experience.
Did you work alongside your studies?
I was able to work for the University during my degree, first as an Open Day Assistant and then in catering with Teras Lounge. Working for the University made it easy to combine work and study, since my supervisors always understood when I needed to reduce my hours around busy study periods; such as exams. The people I worked with were incredibly friendly and enthusiastic about their work, which always helps in creating a good work atmosphere.
What was your favourite memory from university?
I would have to say my fieldwork trip to Zanzibar. I was able to spend four months living on this beautiful island, learning so much both professionally and personally. Observing primates all day is tougher than it sounds, but it was worth it and is definitely the highlight of my time at Bangor.
Future plans?
I'm hoping to find a job that makes me happy, where I can apply some of what I've learned during my undergrad and masters courses at Bangor University.
Publication date: 12 December 2019