Graduation Profile: Teleri Wyn Davies - LLB Law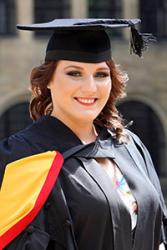 Teleri DaviesTeleri Davies, 21, from Bala graduated with a first-class degree in Law. Before attending Bangor University, Teleri was a pupil at Ysgol y Berwyn, Bala.
Background:
I work part-time at Penllyn Leisure Centre, Bala at weekends and during the university holidays. My main interest is rugby, I play for Caernarfon Women's Team, RGC and I received my first cap for Wales this year. I have undertook a Level 2 rugby coaching course and have been awarded a Level 1 refereeing award and I enjoy coaching in my spare time. I also enjoy music and play the piano and the harp.
Why choose Bangor?
One reason for choosing Bangor was that it is home to the best Law School in Wales! I felt very much at home there during the open day, and the course was presented interestingly. The main reason, however, was the Welsh element. I was able to study part of the course through the medium of Welsh, and I was very keen to take advantage of that.
Student Life:
During my time in Bangor I was a peer guide, where I helped new students settle in at Bangor. I also went around secondary schools in the Bangor area discussing the course and the experiences that Bangor University offers students. I was an enthusiastic member of UMCB and of the University Women's Rugby Team.
With rugby being an important part of my life, I had to overcome time management issues. As a result of all the constant travel to Cardiff to train with the Welsh women's rugby team, it was not possible to attend some lectures, so I had to deal with the additional pressure of catching up.
Highlights:
My main highlight was knowing that I was graduating with a first-class degree. I felt great pride, as well as relief that all the hard work had paid off. In addition, I received my first cap playing for Wales against Scotland during the first match of the Six Nations Championship at ZipWorld Park, Colwyn Bay this year.
How does it feel to be graduating?
Graduation is a sense of pride, and having graduated with a first class-degree is a crowning achievement. Furthermore, it is a feeling of relief that all the hard work has paid off.
The future:
In September, I will studying an LPC and a master's course in Law at Chester, and in the long term, work as a lawyer.
Publication date: 17 July 2018