Successful North Wales Jewellery Business Owner Graduates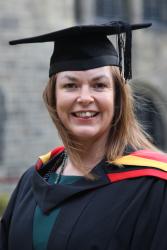 Gaenor Wyn RobertsLeaving the security of the teaching profession was a risk that paid off for a local entrepreneur who this week, adds being awarded a masters degree with distinction to her list of successes.
Gaenor Wyn Roberts, 46, from Llanfair Talhaiarn, Abergele graduated with an MA Business and Marketing postgraduate degree from Bangor University's Business School.
Since graduating in Music from Bangor University in 1992, Gaenor became a primary school teacher, before deciding to risk leaving the security of that profession to set up her own jewellery business, Tlws, which she has managed for the last 11 years. Originally from Ruthin, Gaenor now lives on a farm in Llanfair Talhaiarn with her husband and three teenage daughters.
Gaenor began her course at the same time her daughter, Lowri Alaw, began studying Sociology and Social Policy at Bangor. She continued to run her business and continued working in schools and colleges as a role model for the Big Ideas Wales project whilst studying.
Gaenor said: "It feels amazing to be graduating again, I'm so glad that I returned to education. I was slightly concerned before starting the course that it would be difficult being a mature student, but I must admit that once I was on the course, I forgot how old I was, and was treated the same as everyone else.
"Working whilst studying proved to be a huge challenge at times, especially around Christmas which is the busiest time for my jewellery business. It was also the deadline for many assignments, together with the prospect of exams for the first time in 25 years the following January. The thought of sitting exams was a little daunting and I was concerned about my ability to retain information and writing non-stop for two hours.
"Part of the course involved working in groups which was very enjoyable due to the diverse range of interesting students. I got to know students from India, Chile, Honduras, Columbia, Nigeria, Pakistan, Canada, China and many other countries, which I can honestly say has enriched my life, and has made me more aware of the world and its people.
"My dissertation focused on women-owned businesses in north west Wales. I had the opportunity to interview women who like me, had ventured to set up their own businesses, and heard many inspirational stories along the way. I feel extremely privileged to have been given the award for the best dissertation in Marketing, Business and Management for this research."
As well as continuing with her business, Gaenor has started lecturing part-time at North Wales Business School, Glyndwr University as well as developing a Young Talent Academy for North Wales. In the future, Gaenor would like to complete a PhD.
Publication date: 15 December 2016