Starting university can be a daunting experience to say the least but for international students it doesn't just mean leaving home. Students from over 85 different countries choose to study at Bangor and therefore have to leave their native homeland, their families and friends and move to a foreign country. They not only have to adjust to a new culture and surroundings but in many cases face the challenge of adjusting to a new language.
That's why Bangor have 31 International Student Ambassadors to support international students from the application process right up to their graduation day.
What is an International Student Ambassador?
The ambassadors are all current students have been chosen to represent the University and play a key part in recruitment activities both within Bangor and on overseas visits as well as contribute to the support programme offered to students during their studies at Bangor.
Ambassador Profiles
Take a look at our International Student Ambassador profiles and ask them a question.
 
One of our International Student Ambassadors, Nebu George from India, has also been appointed to a UK wide International Ambassador role for the  #WeAreInternational programme led by the  UK Council for International Student Affairs. 
Watch the video to meet all of the UKCISA international ambassadors, including Nebu!
Launched in November 2019 at UKCISA's first international forum, the #WeAreInternational programme is an education policy and leadership development scheme for driven and dedicated individuals from around the world currently studying and living in the UK.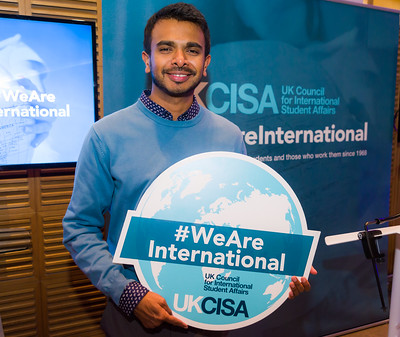 Click here to see Nebu's full profile or ask him a question about being a student at Bangor University.