Continued National Student Survey success for the School of Languages, Literatures and Linguistics
The results of this year's National Student Survey (NSS 2019) have once again confirmed the high level of student satisfaction and support for students in Bangor University's School of Languages, Literatures and Linguistics (SLLL).
Overall satisfaction scores of 90% or higher were achieved by Imaginative Writing (95%), French Studies (91%), and English Studies (90%) subject areas. Imaginative Writing is 6th the UK for overall satisfaction this year, making it the third year in a row that Bangor University has been in the UK top ten for this subject area.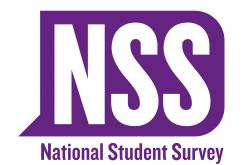 The survey results also showed that SLLL students in a variety of different areas feel both supported and listened to by staff. When it comes to Academic Support, Bangor University was among the top three universities in the UK for French Studies, German and Scandinavian Studies, and Iberian Studies. When it comes to Student Voice, Bangor University was first in the UK for Linguistics and in the UK top ten for English Studies.
Dr Andy Webb, Head of School, expressed his delight at the school's NSS success and noted that 'our students experience excellent teaching from experts right from the very start of their studies here at the very beginning of year one'. He added: 'staff in SLLL work hard to provide excellent research-based teaching to our students' and that 'there is an excellent choice of modules and high standard of pastoral care'.
SLLL's Director of Teaching and Learning, Anna Saunders, stated that 'this year's NSS results are once again testament to the hard work and dedication of staff in the School of Languages, Literatures and Linguistics'. She also stated that this NSS success was a consequence of the way 'staff consistently strive to work with students in order to improve their experience at Bangor'.
Publication date: 5 August 2019