Enthusiastic prize winning languages student graduates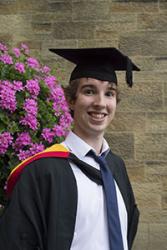 Gareth WhiteA Bangor University Excellence Scholarship winner will graduate with a first class degree in French and Italian this week.
Former Denbigh High School pupil Gareth White, 22, originally from Denbigh in Flintshire also obtained oral distinctions in both languages.
Even though Gareth juggled work around his studies and spent a year abroad, he also managed to gain the School of Modern Languages and Cultures prize for Italian this year.
Gareth said: "I remember coming to an Open Day a few months before starting. I had heard great things about the School of Modern Languages and Cultures from former Bangor graduates who visited my high school. When I actually got the chance to see it for myself, I thought that it was the right choice for me.
"I've worked throughout my studies, my first experience was in a fast-food restaurant, which I did for a year or so. I gained a TEFL qualification in 2012 and began teaching English privately to Italian students. It was unusual because one of my students was a Lecturer of Engineering at an Italian University and he wanted me to check his lecture notes!
"Following a language exchange period working with three French children in Bretagne, France, I was recruited by a Spanish multinational company, iSpeakuspeak, in 2014. I now am a Virtual Trainer teaching English to students from Italy, Spain, Germany, Russia, South Korea and China, to name a few. I also am a Virtual Coach for Oxford University Press offering on-demand sessions, as well as an online English examiner. Studying and working was an enormous challenge, but it was one that I have enjoyed thoroughly.
"As part of my degree I spent a year studying at universities in Italy and France with the Erasmus scheme. I initially spent five months working in the University of Bologna in the north of Italy. I then spent five months in the city of Brest in Brittany, France. This was a fantastic opportunity to practice the language skills I had learned in the classrooms, as well as to live in two completely different places.
"I also took part in various initiatives for Bangor University, ranging from helping with the Languages Spelling Bee Competition as part of the Routes into Languages initiative and visiting local high schools to offer multilingual taster sessions.
"I was a committee member of the Languages Society in Bangor University. In my second year I was the Italian rep and organised conversation evenings, film nights, acting in Italian, and a carnevale celebration at the University. In my fourth year I started organising Italian drop-in sessions with the society. I also became French rep in the final half of the year, for which I organised a multilingual quiz for the School's end of year party.
"The highlights of my degree have been watching how my language skills have developed in the space of four years. I came to Bangor unable to even introduce myself in Italian. Now Italian is my life and I am frequently travelling to the country. The same goes for French; being able to travel around the coasts of Brittany was an unforgettable experience. Winning the Excellence Scholarship in 2011 was also a real honour. I also met some incredible people, without whom I wouldn't be here today.
"To be graduating from Bangor University is an incredible feeling. It has been an exciting four years, and I'm now looking forward to the future. I would love to continue my studies and do a Masters here at Bangor and am currently exploring my options. One thing I would love to do would be to study European Languages and Cultures and conduct research in this field. Another option could be to continue with my English teaching career. Who knows?"
Publication date: 14 July 2015