German-Kurdish film director Hüseyin Tabak visits Bangor
The School of Modern Languages and Cultures was delighted to welcome film director Hüseyin Tabak to Bangor on Friday 9 March 2018, when he presented his film The Horse on the Balcony (Das Pferd auf dem Balkon) at a public showing in Pontio.
Tabak's visit to Bangor was the last of a three-day trip to Wales, supported by the Institute of Modern Languages Research (University of London) and the Wales Think German Network (co-ordinated by the Universities of Bangor and Swansea).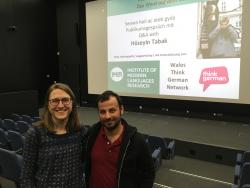 During his visit, Tabak took part in workshops with schools, public discussions and a recorded interview, which can be listened to via the Network website. He also presented two films, and provided audiences with intriguing insights into his new film, Gipsy Queen, to be released later this year.
Interest amongst local schools was especially high, as his film The Horse on the Balcony is currently a set text on the WJEC A-level German syllabus. The opportunity to meet the director and hear him talk about his experiences making the film was second to none for those involved, and a lively Q&A session followed the film showing in Pontio.
As Anna Saunders, Head of School, said, 'It was very special to be able to welcome Hüseyin Tabak to Bangor, and to discuss his past and future projects with him. The audience was extremely appreciative, and it was wonderful to see so much enthusiasm about a German-language event at Pontio.'
Publication date: 23 March 2018