Multilingual Little Red Riding Hood Launch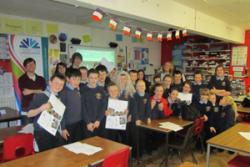 Year 7 pupils at Ysgol Gyfun Llangefni with Bangor University students Laura Hurst, Gareth White, Martina Codice and Matthew Hendy.Students from Bangor University's School of Modern Languages visited Ysgol Gyfun Llangefni recently to run activities for year 7 pupils. The pupils were given the chance to experience and think about foreign languages in a European context, by working with a new 'Routes into Languages Cymru' learning resource developed at Bangor University and devised to arise awareness of other languages in Welsh schools.
After a short interactive ice-breaker on learning languages, a recorded version of the popular tale Little Red Riding Hood was shown. The clip starred characters speaking Dutch, Italian, French, German, Polish and Spanish, exposing the students to many languages they had never heard before, and encouraging them to work through a set of tasks using and experiencing them. The session was carried out through the medium of Welsh, making it more comfortable for students to ask questions and participate. Many of them decided on the day that they would like to study other languages in the future.
Bangor University students, one of them a trained Routes Student Language Ambassador, ran the activity smoothly, interacting with every pupil. "They all enjoyed it thoroughly", said Rhian Baum, their teacher. When leaving the class, the pupils thanked the team in Welsh, English, Spanish, Italian, French, German and other languages.
This new learning resource is now available in both Welsh and English at the Routes into Languages Cymru website, and it includes the multilingual script, a link to the video and a set of illustrated activities for children.
Publication date: 15 April 2013