West Wales is Buzzing with Super Speedy Spellers
Spelling Bee 2017 winners: Gabriella Razie, from Ysgol Bro Edern (Cardiff) in the French category; Melys Thomas, from Ysgol Maes Garmon (Mold) in the Welsh Second Language category; Ella Parry, from St Martin's school (Caerphilly) in the Spanish categorNinety Year 7 pupils from 30 schools came together recently to compete in the seventh annual national final of the Routes into Languages Spelling Bee Competition, held at Aberystwyth University. Pupils from all over Wales, representing all the regions involved in Routes into Languages, came together to compete for one of four Routes into Languages Cymru National Spelling Bee Champion 2017 titles, in either French, German, Spanish or Welsh 2nd Language.
Bangor University Student Language Ambassadors and School of Modern Languages and Cultures staff were amongst those supporting the event.
The National Final saw the cream of the crop of multi-lingual spellers in Wales. Schools around the country had been holding the first three stages since September, with 20 words being added to each stage. Therefore, there were a total of 80 words that the pupils could be tested on during the National Final.
Six schools in north Wales participated, with two of them winning in their categories: Efa Huw, from Ysgol Tryfan in German, and Melys Thomas from Maes Garmon in Welsh second language. Other finalists were Kristen Rattray (Maes Garmon, Welsh second language), Alyssa Aranas and Seweryn Dzikowski (St Joseph's, German) and Lily Jones (Rhiwabon, French).
Rubén Chapela-Orri, Project Coordinator of Routes into Languages Cymru based at Bangor University in north Wales said "This was one of our highest profile events, with so many talented pupils across Wales taking part in this exciting competition. They worked very hard throughout the year, and we saw some seriously impressive language skills by all the finalists."
Mrs Margaret Appleby, teacher of French at Ysgol Rhiwabon said: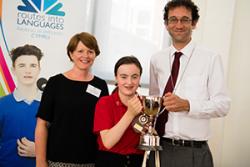 Sian Stoodley (European Commission) and Talat Chaudhri (Aberystwyth Council Deputy Mayor) handing the trophy for the German category to locfat language student, Efa Huw, of Ysgol Tryfan.'Lily won both rounds of her competition and came second overall. She was absolutely fantastic and her pronunciation was perfect. One of the judges commented on how brilliant she was'.
The European Commission was very kindly sponsoring the competition, and representatives from Alliance Française, the Spanish Embassy Education Office, Goethe Institut, Aberystwyth and Bangor University and Aberystwyth Council gave talks to the pupils and offered their support.
See also:
Pupils receive Modern Languages Awards
and
Modern Languages Student Mentoring Project: An Update
Publication date: 24 July 2017