Cindy Cooper
6th August 1944 - 1st March 2017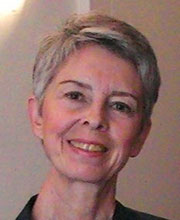 Our dear friend, colleague, and co-journeyor Cindy Cooper died on 1st March. She had been living with pain and illness for a long time. Although her passing was expected, it still feels a shock – and we are poignantly aware of the deep sadness of this loss. We know that many of you have been touched by her being and her teaching over the years – and we reach out to you with love as you feel the resonance of this news.
Cindy joined our core training team at the Centre for Mindfulness Research and Practice 10 years ago. She was the first teacher to join from outside the geographical region of North Wales and supported us to pioneer making our training programme available in London and other regions. She had a passion for the practice and teaching of mindfulness that was contagious to be around. She put herself wholeheartedly into the mix. Embodiment of the practice was for her a natural piece. She was transparent about her process – a thread through her teaching was the importance of feeling into our 'wobbles' and our vulnerabilities and teaching out of these places. She was hugely personal in her approach to teaching – she would come alongside her co-teachers and participants in a deeply human and connected way. Her teaching was playful and she was naturally curious about life and people. She was also determined, passionate and feisty. She would hold her ground and speak her truth and could be hugely stubborn! We have had many passionate engagements with Cindy in the mix within our teaching group, and our process was the better for it.
A particular passion she held was for Mindfulness Supervision. She cared deeply about the integrity of mindfulness-based practice as it found its way into the mainstream. She saw supervision as a critical way to ensure integrity – if each teacher is connected to an experienced supervisor they will be held and supported in the work. In collaboration with Jody Mardula and Alison Evans she pioneered the development of a model for mindfulness-based supervision and in the last few years of her life poured a huge amount of energy into supporting the setup of the Mindfulness Network CiC which offers supervision services to the mindfulness-based teaching community.
In her wider life she loved her dog Zephyr who himself died a while ago, she lovingly restored and deeply loved a cottage in Hampshire, she and her late husband lived in Pimlico London with its colourful past, and they both had a connection to music.
Whilst she is no longer present with us, the legacy of her life lives on in ways that will continue to touch lives and reduce suffering.
With much gratitude for Cindy's being and presence in our lives
With love from all at the CMRP team
---
We are having two connections for those of you who would like to connect with Cindy in mind. The first is in person with Sud Ubayasiri 4 – 5.30pm on 9th March in Greencoats, London, (directions - http://www.greencoatplace.org/index.html#location). As the venue has a limited capacity we are asking for you to advise us via this link if you plan to attend in person at the London connection – London link: https://bangor.ac.uk/mindfulness/cindyreg.php.en
The second will be via zoom video conference with Rebecca Crane 4 - 5pm on Friday 10th March. (If you haven't used zoom we recommend you click on the link before the start time of the meeting so you can download the zoom software, you will need a computer with a microphone and camera and a good wifi connection) Zoom link https://zoom.us/j/878388259
Becca and Sud will guide a practice and then there will be space for reflection.
Publication date: 3 March 2017