Bangor 'fake news' expert gives evidence to MPs
A Bangor professor has been giving evidence on misinformation and user targeting to the UK Parliament's Fake News Inquiry.
Vian Bakir, Professor in Journalism and Political Communication at the School of Creative Studies and Media, told a panel of 11 MPs about the many democratic problems with online 'filter bubbles'.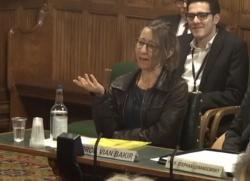 "Filter bubbles is where deception and misinformation can run rife among a closed online community, with no hope of being corrected by facts because those inside the filter bubble are either not exposed to the facts, or choose not to believe them," she said.
"This is democratically problematic: those trapped within the online filter bubble lose touch with reality, and those outside the filter bubble have little or no idea that this state of affairs is taking place.
"Ultimately, what is at stake is the common foundation of knowledge upon which democratic decisions are made."
Prof. Bakir also pointed out that politicians themselves are responsible for a significant portion of deception online, and should do more to prevent fake news at source.
Research shows that deceptive online filter bubbles were evident, for instance, across the right-wing media ecology in the USA during the political campaign that led to the election of Donald Trump in 2016.
Prof. Bakir's evidence was covered by the Press Association and their article was published in a number of online and print publications.
Televised coverage of the 1.5 hr Fake News panel can be seen here.
Publication date: 6 February 2018