Bangor film academy 'an amazing experience'
Young people from around Wales and the UK have given Bangor's BFI Film Academy documentary film training program the thumbs up.
As well as filming and editing a short documentary, participants were also given the chance to network with award winning documentary professionals and respected practitioners in their field.
Isaac Mohammad Nasser, who travelled from Cardiff to take part this weekend, said: "It's been an amazing experience, and has exceeded all of my expectations.
"We have access to great equipment, and great mentors. It's given me a more extensive understanding of the structure of the film industry, and how to get access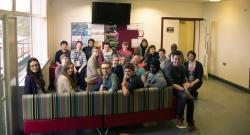 to it."
'Proud'
The Academy is open to talented 16-19 year olds who are mentored over the three weekends by current students and recent graduates from the universities' MA filmmaking course.
The workshops are being run by the School of Creative Studies and Media at Bangor University and with Media Academy Wales for the BFI Film Academy.
Course director, Joanna Wright said: "The BFI Academy scheme is a great opportunity, both for our students to gain experience of mentoring, and to meet practitioners who will form part of their future professional networks.
"I'm incredibly proud of their commitment and dedication to the young people they are working with. This is the first time that the Academy has taken place in Wales, and we are really pleased to be able to host it in Bangor."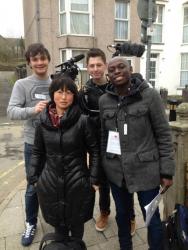 'A bridge into the industry'
Osian Williams, a current student and BAFTA Wales award winner, said that the training program was a great chance for young people who wanted to take their first steps into the industry.
He said: "It's important to know that the film industry is accessible for young people in Wales and that the participants can make contact with professionals who are working in Wales and internationally."
Matt Owen, a graduate from the MA course who is currently working as a freelance filmmaker in Bangor said: "I wish I'd had an opportunity like this when I was young, the amazing opportunities for networking provided by the Academy, and this bridge into industry."
Support
The DAWN network is coordinated by Media Academy Wales.
Hannah Raybould, project manager at Media Academy Wales, said: "It's great to give this age group, from such a wide geographical area, new networks and new opportunities to collaborate.
"The Documentary Academy Wales Network will continue to offer support and opportunities that participants can build on in their future careers."
Recent graduate Justine Montford said: "Being a mentor on the Academy is a great opportunity to pass on the skills we've learned at Bangor."
Publication date: 18 February 2014