Bangor Filmmaking students chart 'mind-blowing' Eisteddfod performance
Two MA Filmmaking students at Bangor University have played a key part in bringing a project for people with physical disabilities, special educational needs and mental health issues to a wider audience.
Marina Ivaniceva and Gehad Medhat Ali Mohamed Ibrahim created a series of short documentary films about Llangollen Eisteddfod's inclusion project.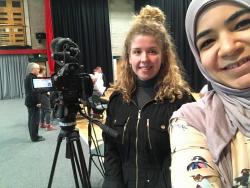 The project included a brand new performance piece, SEND A Message, composed by School of Music and Media lecturer Owain Llwyd, which was performed at this year's Eisteddfod.
Under the tutelage of School of Music and Media film production lecturer Joanna Wright, Marina Ivaniceva and Gehad Medhat Ali Mohamed Ibrahim crated 2-3 minute clips charting the project's development.
The short documentaries are available to view on the Llangollen International Eisteddfod YouTube channel.
Marina Ivaniceva said that the experience of being involved in the project was "priceless" dor her.
"It meant working with new people, getting used to industry standards, communicating with crew to achieve best results in post-production and also trying out a new format of documentary filmmaking," she said.
"However, we very quickly transformed from just two Bangor students, who came to film, to a real part of their big and loving family.
"By the second session most of the children could remember our names and recognise us, the project leaders were asking for our opinion on organising and adjusting things.
"We couldn't help but eventually dance and sing together with everyone because we've learnt the lyrics and the dance moves!
"The most precious thing that I've learnt is that no great result can be achieved without a real passion, full contribution and giving a 100% of yourself to the project you're working on."
Theme
Performed by children from St Christopher's School in Wrexham, Ysgol Tir Morfa in Rhyl, Ysgol Plas Brondyffryn in Denbighshire, individuals from Derwen College in Oswestry and the Theatretrain Regional Choir in Mold, SEND A Message promoted the idea of spreading love and peace via music, song and dance and showcases a range of diverse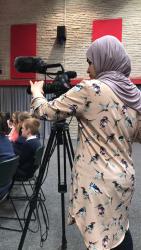 talent from across Wales.
The project was about group of children with disabilities who were preparing for a big performance during the Llangollen International Eisteddfod in July.
Starting late April, they were holding sessions to write a song, compose music for it, and rehearse dance moves for the performance.
The theme of the project was "SEND A Message', and every kid expressed what the theme meant to him or her, and contributed with their own thoughts and feelings to come up with words for the song.
Gehad and Marina attended numerous the sessions which took place in different places around the north of Wales.
They created eight short diary-style documentaries that showed the process, improvement, and the changes from the first rehearsal until the "mind-blowing" final performance.
'Incredible'
Gehad Medhat Ali Mohamed Ibrahim said that the project allowed her to "experience how professionals work in the industry".
"It also enriched my skills in communicating with people of different knowledge, from different backgrounds, and in different ages," she said.
"I also witnessed how my filming and camera operating skills have improved in every session.
"I was delighted to hear that the kids were comfortable having me filming them and being around them with the camera.
"We were also thrilled and very excited to know that our videos exceeded people's expectations and made a difference for the project this year.
"More importantly, I got an incredible chance to work with amazing people who were preparing for an impactful project that had a deep meaning of getting people together and accepting their differences.
"Everyone in the project worked really hard, and exerted lots of effort to enhance the output in every step.
"We felt pleased to be part of this project and to be honored to witness and document this amazing progress, and in no time, we became one big close family.
"On a more personal level, this project proved my belief that being yourself, and putting your heart in your work, will reflect clearly on every step until the end result.
"We were very proud with the final performance during the festival, and with how we successfully documented this valuable journey, and I would love to work on this project again next year, if possible."
SEND A Message was written by poet Aled Lewis Evans, and the performance has been choreographed by Angharad Harrop, with Leslie Churchill Ward as Artistic Coordinator.
Publication date: 25 October 2018