Bangor postgrad wins award for dementia film
A film about dementia written and produced by a Bangor lecturer and PhD student has won a prestigious film award in Ireland.

John Finnegan, a graduate teaching assistant at the School of Creative Studies and Media, wrote the screenplay for Still Life in 2013.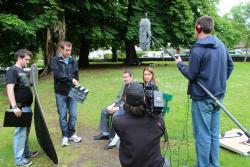 The film went into production in Galway, Ireland last year and recently won the Best National Short award at the Underground Film Festival in Cork.

The festival screened over 100 films in 15 categories, with entries from 35 countries.

John Finnegan said that they had received many supportive messages, due to the subject matter.

"I would get messages from people looking to share their own stories about dementia in their family," he said.

"I think that made us realise that we weren't just making a film, we were dealing with something that is very real for many people.

"We had a responsibility to do this right, and that effort really comes across in the film, thanks to our incredibly talented team.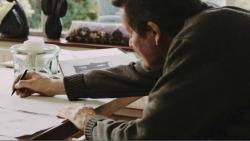 "It was so rewarding to find out we had won, and the fact that it was in my home town, Cork, made the win even more special."

'Still Life' is a short drama about a turning point in the lives of two people, a father and daughter, as they cope with dementia.

One struggles to maintain civility in the household, and as time runs out for the other, their relationship is put to the test.

The result of their journey is, for the first time in their lives, seeing, understanding, and appreciating the role each plays in the other's life.

John Finnegan is currently working on another screenplay that will form the backbone of his PhD thesis.
Publication date: 22 September 2015