Bangor student's Euro 2016 book roars in
A Bangor University Student is celebrating after his book about Wales' journey to Euro 2016 was finally published.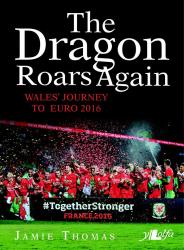 The Dragon Roars Again by School of Creative Studies and Media student Jamie Thomas documents the fantastic recent success of the Welsh football team and their qualifying campaign for Euro 2016.
Jamie Thomas, who is currently studying for an MArts in Creative Studies, began the book while a third year student studying for a BA in Journalism and Media at the school.
The book will also compromise a part of Jamie Thomas' final Masters dissertation.
Great support
As part of his research Jamie Thomas followed the team around Europe, attending press events and interviewing coaches Chris Coleman and Osian Roberts, as well as stars Gareth Bale, Arron Ramsey, Ashley Williams, Joe Allen, Wayne Hennessey, and Joe Ledley.
He also got the chance to chat with world-famous from other national sides, such as Eden Hazard and Thibaut Courtois of Belgium.
"I would like to thank everyone for their support throughout the process of writing the book, and I hope they enjoy it!" he said. "It has been my dream to achieve something like this.
"I always wanted to write a book about the Welsh team's biggest successes, but I was lucky that their greatest success happened while I was writing the book.
"The publishers that have shown so much faith in me, and everyone I've interviewed – the players, coaches, former players, commentators – have been great.
"I would also like to thank my supervisor at the School of Creative Studies and Media, Geraint Ellis, and the other staff for their support throughout my four years there."
The book is available to pre-order from Y Lolfa and will be on sale during March.
As well as working on the book, Jamie also found time to contribute match reports and interviews for S4C shows Sgorio and Clwb, magazine Golwg, and websites Golwg 360 and The Offiside Rule.
His services have also now been snapped up by the Football Association of Wales themselves.
The journalism course at Bangor was rated the best in the UK last year, with a 100% student satisfaction rate, and the media course was also rated among the top 10 in the country.
Publication date: 25 February 2016