Bangor University's School of Music – the best in Wales!
It's official: Bangor University is the best place in Wales to study for a degree in Music. The results of the 2014 National Student Survey, published last week, place Bangor's School of Music top in Wales, with a massive overall satisfaction rate of 91%.

The National Student Survey is a poll of final year undergraduates at every higher education institution in the UK. The excellent results for the School of Music match those achieved by Bangor University as a whole, which is positioned in the top 10 of all UK Universities, alongside other traditional institutions such as Glasgow, Durham, Oxford and Cambridge.

The survey especially commended the School of Music on the quality of its teaching (97% of graduates agree that staff are good at explaining things), and on the quality of staff feedback on student work (93% agree that marked work is returned promptly, while a staggering 99% complimented the staff on the level of detail in their feedback). The School also scored extremely highly for staff availability (94%), library resources (93%), and for developing students' communication skills (97%).

Dr Chris Collins, Head of Music, said: 'These results show that our students are proud to be part of a very friendly and vibrant learning environment. As staff, we pride ourselves on our responsiveness to student needs, and we work closely with our students to provide them with the very best training, resources and opportunities. The quality of our provision is proved by the successful careers that our students go on to enjoy, with 90% of our graduates in employment or further training within 6 months of completing their course.'

The School of Music offers the most varied undergraduate programme of any UK university, with well over 100 modules to choose from. It also offers Masters and PhD programmes, and enjoys close links with a number of industrial partners. The School also plays a vital role in the regional community, supporting educational and healthcare initiatives such as Pontio's Corneli Cudd project, and offering opportunities to take part in orchestral and choral performances.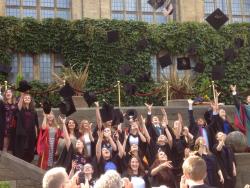 Publication date: 18 August 2014