Creative Studies student music success
A trip to Los Angeles and appearances at various festivals are in store for a young singer/songwriter, who has already attracted a large on-line following.
Bangor University Media Studies student, Cara Braia, 21, from Criccieth had her first taste of success with an online competition to re-interpret a classic song by popular 60's group, The Kinks. As a result she has gone to collaborate with various artists and producers from all over the world, and will soon be jetting off to LA to further her career.
Cara, a former Ysgol Ardudwy pupil said:
"I've been performing since the age of 4 on stage dancing, and I started taking part in the Eisteddfods at a young age singing. From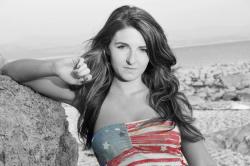 the age of 9 I was singing solos in local venues around the Llŷn Peninsula with an operatic group called Reflexions."
Cara also took part in School plays and the local amateur dramatics society so she has always sang, acted and danced as a hobby never thinking it would get to be a part of her life full- time. She explained that she first started taking her songwriting seriously at the age of 16, as a means of expressing her feelings about her experiences of bullying.
In 2010 Cara moved to London to study and went to a studio to record her music professionally. After uploading her recorded music to Soundcloud, creating Facebook and Twitter pages for herself, as an artist she started getting approached by people wanting to collaborate with her.
Cara wanted more experience working behind the scenes, screenwriting and working on set so that's why she chose to study for a degree in Creative Studies. Cara said:
"I chose to study at Bangor because it's close to my home. I live at home so I don't have the typical student life because I'm so busy focusing on my music and my work. I have enjoyed my time at Bangor especially Screenwriting, Journalism and Short Film Production modules. I am grateful to the lecturers for all the help and support.
"I've also met great friends during my time at Bangor, and I usually stay with friends if I go for a night out."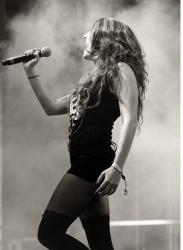 Cara performing in Glass Butter Beach Festival last summer (picture by Totally Abersoch)

She explained that her singing and songwriting career took a major step forward when she won and international competition, that brought her to the attention of a much wider audience.
"In 2012 I won a world wide competition based on votes by re-interpreting a classic song by the Kinks. From there I began gaining many followers on Twitter from artists such as Sway, Baby Blue, So Solid Crew and Pretty Ricky from America. I have worked with people from different places in the UK, US, France, Australia, Africa, Poland, Germany and many other countries.
"I hope to be meeting some of the US based artists during my time over in L.A and I will soon be releasing my single with 'Dancehall Prince' Stonebwoy from Ghana.
"My music is played on Heart FM, & BBC Radio Cymru, it's great to be able to hear my music played in my home country as my other tracks with other artists are played around the world but I don't get to hear them. My Welsh release 'Maent yn dweud' was chosen to be the 'track of the week' on BBC Radio Cymru and I performed it live on S4C Heno."
Last summer Cara, who now has over 31,000 followers on Twitter, performed on the Main Stage in Glass Butter Beach festival with other artists such as Tinchy Stryder, Goldie Rocks, Baby Blue.
"That was brilliant," she said, adding "and I hope to perform in more festivals this summer and I'm also looking forward for my graduation this year."
Click on the links below to see Cara's pages:
http://www.carabraia.co.uk/home/4578798371
https://twitter.com/carabraia
http://www.youtube.com/user/carabraia
Publication date: 27 March 2014