Film awards triumph for Bangor University students
As stars and directors from across the globe were gearing up for the Oscars awards night, two Bangor students were grabbing their own gongs on the other side of the Atlantic.

Classmates John Evans and Mathew Allan Owen from the School of Creative Studies and Media won the Royal Television Society award for Best Fiction at an award ceremony in North Wales for their dissertation film 'Long I stood there'. In addition, John Evans won the Ffresh Best Welsh Language Film award for 'Not' which also scooped a Best Actress award for his 11 year old step-daughter Ceri Williams. Both sets of awards were handed out at the Ffresh student moving image festival 2013 in Wrexham on 22nd of February.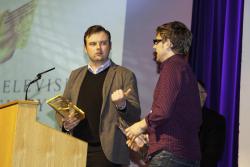 John and Mat accepting their awardJohn, age 32, and Mat, age 34, are both from Bangor and they have always worked together on various productions such as 'When Saturday Comes' and 'Luck', a short documentary which was nominated for Best Factual film in 2012.

John said, "'Not' was my idea, I wrote the script and directed it, it was the first time that Mat and I were working separately. When the Best Actress award came up, straight away I said to myself 'Ceri can win this'. She did very well in this film. As a Welsh language speaker, obviously the award for Best Welsh Language film made me very proud too."


'Long I Stood There' was an unexpected winner, even though they knew that the film has been sent to the judging panel for consideration.


John and Mat are both MA students in 'Filmmaking: Concept to Screen' at Bangor University and said their tutors had supported them with their work since their first year at the School of Creative Studies and Media, especially on the production side. They said their teachers Joanna Wright and Dyfrig Jones encouraged them to send their films to the Ffresh Festival and enter them in The Royal Television Society award.


John said, "With 'Not' there were some initial concerns because of the script subject and the strong images I decided to include in the film. However, when I finished working on it, the tutors immediately suggested to put it into a festival."

Even when working apart, the directors say they have a determination to ensure that the end product does not look like "the typical student film".

Mat said "We wanted to avoid the clichés which usually happen in student movies, especially the kind of shots which are usually seen in academic productions. For the film 'Not', John wrote a script that was specifically going to involve children, in order to add certain values to his production and creating a personal challenge in the making of this movie."


John said "It is funny because they always say 'never work with children and animals' and actually, for my first winning film 'Not', I dealt with both children and animals."


New media such as Vimeo and YouTube have increasingly pushed young people who study in the film industry to concentrate on the special effects more than to deal with the values of the production and the final message of the film.


Matt said "You can still work hard on the special effects but you always need to choose an interesting topic and deal with it in a mature way."


Both students are also full of praise for their tutors for their support and flexibility when it came to the production of a good piece of work.


John said "The School of Creative Studies is not just an academic school but it is a film making school too and Bangor University is the perfect environment to develop both your ideas and your skills."


Another challenge was that the films were part of their dissertation work at university, meaning that they also needed to consider every shot and angle from an academic perspective.


Mat exlained, "It was hard because we wanted to find an original subject for our films but we also needed to justify it in the academic side of our dissertation. We needed to create the balance between being original and academic at the same time.


John said, "One of our tutors commented that we essentially made two separate bits of work that supported each other but could be marked individually."In fact we produced a written dissertation and also made a film, this is probably why Mat and I also shared the Best Practical Dissertation Award."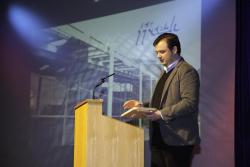 In addition to winning Best Welsh Language Film and Best Actress, 'Not' was also nominated for Best Fiction Film 2013 and was placed second in the Best Fiction Category at the Royal Television Society Awards. Furthermore, 'Not' had a special BAFTA Cymru screening as part of The Best of Ffresh and was the first Welsh language film to be nominated in the Best Fiction Category.

'Long I Stood There' has no dialogue and a deliberate ambiguous plot which made the development of the narrative extremely difficult.


Mat said "We told the story through the 'time' of the actions and many people thought it was too academic to take part into a festival."


John added, "The award as Best Fiction Film is an indication that it is a film that stands up by itself."


The judges at the Fresh were BBC producers and authors who first watched 'Long I stood there' not knowing that it was a dissertation film.


At present, John and Mat are concentrating on finishing their postgraduate studies in film production at Bangor University but they are both hoping for a future in the industry.


John said, "There are always opened doors and hopefully we will keep succeeding with our work. There are a lot of local production companies in Wales and we may collaborate with them after our studies."


Mat's dream is to open his own production company which can sustain film makers in Wales.


Mat said "I definitely would like to build something here because this is where I am from."


"I will probably go to other places next year, but I would like to come back to the place I grew up and keep working in the film industry."


Mat grew up having no facilities to pursuit his dream of making films and he used to imagine it as being too far away from him, in places like Hollywood.


"I could create a collaboration between the industry in Wales and Hollywood. The perfect model would be what Peter Jackson did for 'The Lord of the Rings' in New Zealand."


"There are not many New Zealand films but there is a lot of big budget foreign films which have been made in new Zealand recently, using New Zealand crews, casts and facilities. Through this process, New Zealand developed the best special effect company in the world and I believe it is possible to do the same in North Wales."


Mat and John hope that their works and achievements will start getting the School of Creative Studies and Media at Bangor University recognised all over the country, not only as an academic school but also as a film school with its own productions.


John said "the prizes we won belong to all the people who collaborated with us and to our tutors, such as Joanna Wright, Jamie Sherry and Mikey Murray who are film industry professionals who still work with film industry while teaching at Bangor University."

Michela Cortese, Year 3 student, BA English Language and Journalism
Publication date: 14 March 2013