INTER/actions Festival for Interactive Electronic Music wins the prestigious PRS for Music Foundation 'Beyond Borders' grant
Bangor University-based INTER/actions Festival has been selected for the PRS 'Beyond Borders' scheme and awarded £12,000 to commission a large-scale new piece by the acclaimed Northern Irish composer Ed Bennett to be performed by Dr Xenia Pestova from the School of Music.

The composer will return to his roots by taking elements of Irish folk music as points of departure and weaving them into a work of interconnected movements with interactive electronics. Versatile North Wales-based pianist Xenia Pestova will perform on multiple keyboards (piano, toy piano and portable harmonium) with triggered electronic samples as the original material evolves over time, exploring themes of migration, identity and belonging through innovative and expressive timbral and rhythmic transformation.

Transplanting Irish folk music into the world of electronic processing will create a unique and haunting sound world that bridges seemingly disparate traditions in an uncompromising and personal way, questioning and extending genre boundaries and creating new identities. The additional "double transplant" of the concert piano, an instrument with its own rich tradition and repertoire, into an unusual context of alternative keyboard interfaces and samples will build a beguiling environment with choreographed elements.

This unique collaboration will bridge geographic, cultural and musical borders to bring a fascinating new work for multiple keyboards and electronics to new audiences.

This work was commissioned by INTER/actions Festival for Interactive Electronic Music (Bangor University School of Music), Frontiers+ Festival (Birmingham, England) and Cork Orchestral Society (Ireland) and was made possible with funding through Beyond Borders from the PRS for Music Foundation, Creative Scotland, Arts Council of Ireland, Arts Council of Northern Ireland and the Arts Council of Wales.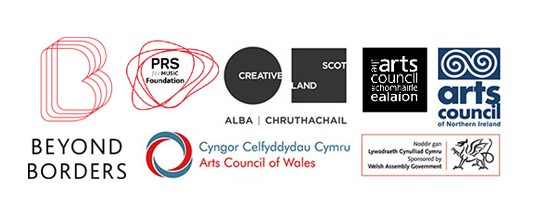 Publication date: 26 September 2014