Kubrick producer praises Bangor's 'brilliant' facilities
Stanley Kubrick's executive producer, Jan Harlan, has praised Bangor's facilities as the best had had ever seen while on a visit to the university.

Harlan was speaking to staff and students from the School of Creative Studies and Media on the subject of music as a scripting tool.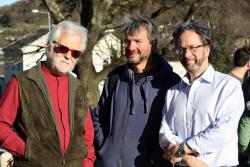 He also introduced Polish film Ida at arts and the university's new 200 seat cinema at Pontio.

"The room at the university in Bangor set a new standard for me, simply brilliant," he said.

Harlan spoke at three events in all, including a Q&A, and they were all well-attended by approx. 60-70 staff and students.

"Given that Jan travels the globe, we should be very proud of this," said Kubrick expert Nathan Abrams, who had invited Jan Harland to speak at the university.

"He told me that this was the best set up he'd encountered anywhere in the world.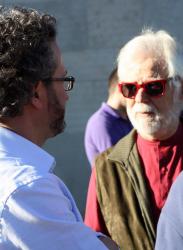 "It was a pleasure to host one of the world's foremost producers, who was fortunate to work so closely with Stanley Kubrick, one of, if not the greatest, directors of the 20th C.

"He shared freely of his time and was a charming, engaging and enlightening speaker. It was quite a coup for Bangor University to have him and we would be delighted to have him back again in the future."

Jan Harlan joined Stanley Kubrick in 1969 for a film on Napoleon, which was abandoned.

He later was Exec Producer on all Kubrick films from Barry Lyndon onwards and worked on other unrealised projects with Stanley Kubrick.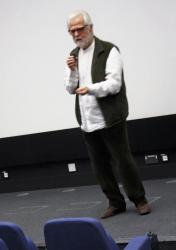 After Kubrick's death in 1999 he worked with Steven Spielberg on "A.I. Artificial Intelligence" and made two documentary films for Warner Bros. and other independent projects.

Jan is a guest-lecturer at different film-schools in Europe and often serves in juries at film-competitions.

He was instrumental in creating a large exhibition on Stanley Kubrick which tours the world and is presently at its 14th station in Seoul / Korea.

Thursday's seminar. All events were well attended (approx. 60-70 at each) and included staff students and members of the public.
Publication date: 15 March 2016