Lecturer launches new East Asian journal
A senior lecturer in visual culture at Bangor University is celebrating the release of a new journal.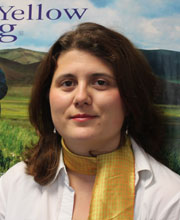 Dr Kate Taylor-JonesDr Kate Taylor-Jones at the School of Creative Studies and Media is joint-editor in chief of the new East Asian Journal of Popular Culture.
She is working alongside editors Ann Heylenof National Taiwan Normal University and John Berraof Tsinghua University.
The East Asian Journal of Popular Culture is the first academic peer-reviewed journal for scholars, teachers, and students from around the world.
The journal can be now be found online here.
Special edition
This month has also seen the launch of a special edited edition of the online open access journal JOMEC, which Kate Taylor-Jones has edited alongside Yan Ying of the School of Modern Languages and Cultures at Bangor.
The edition is a collection of papers from a very successful conference, Cultural Translation and East Asia: Film, Literature and Art, held at Bangor in 2012.
The online journal can be accessed here.
Publication date: 28 November 2014