Lecturer rewarded for excellent teaching
A lecturer in creative writing at the School of Creative Studies is to be given an award for excellence in teaching.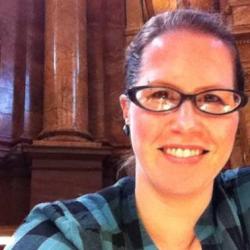 Dr Lyle Skains will receive a Bangor University Teaching Fellowship at the school's graduation ceremony on 14th July.
The Teaching Fellowships are awarded each year to promote, reward and celebrate excellence in teaching that support and enhance the Bangor student experience.
Dr Skains is the second lecturer at the school to be awarded the fellowship, after Dr Jamie Sherry who received the fellowship in 2013.
"I'm really happy to have the university acknowledge all the hard work that I and my colleagues in the School of Creative Studies and Media put into making sure our students get the best education and experience possible," said Dr Skains.
Dr. Skains began her career as a postgraduate researcher and teaching assistant in evolutionary biology at Penn State University, before she gave up science and turned to creative writing.
She began teaching at Bangor University in 2008, and completed a PhD in practice-based research into the effects of digital composition on creative writing practice and narrative.
Each recipient of the Bangor University Teaching Fellowship is given the formal title Bangor University Teaching Fellow, and each Fellow is invited to join the Academy of Teaching Fellows.
Publication date: 16 June 2015