Lecturer tackles Wales' 'democratic deficit'
A Bangor University lecturer has been appointed as a member of a taskforce set up in order to look at ways of closing the 'democratic deficit' in Wales.
Ifan Morgan Jones, a lecturer at the School of Creative Studies and Media, is chair of the journalism subgroup within the Digital News and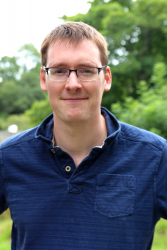 (c) Llinos Dafydd Information Taskforce set up by the Speaker of the Welsh Assembly.
The taskforce will recommend ways in which the Assembly can deliver engaging and accessible news and information about the legislature's work.
Despite being responsible for key policy areas such as education, health and transport, the weak and fragmented nature of the Welsh media means that there is a lack of awareness of the Welsh Assembly's responsibilities.
"Experts and members of the public are invited to suggest ways in which the Assembly can better publicise its work," said Ifan Morgan Jones.
"The indigenous Welsh press are facing considerable financial pressures at a time when Wales' political institutions are growing in importance.
"We need to find a way in order to harness social media such as Twitter and Facebook in order to communicate directly with the public, as well as supporting the efforts of Wales' media in covering the Assembly."
The taskforce met for the first time in November, and will publish its findings by Easter this year.
Publication date: 9 January 2017