MA student picks up PICS award
A student at Bangor University has won an award for a short film produced as part of her MA Filmmaking course.
Caryl Burke, who is studying at the School of Creative Studies and Media, won the award for her film Cofio.
The film, which combines still pictures and dialogue, follows a discussion between three generations of one family as they pore over their family photos.
The film won the Gŵyl PICS award which was held at the Galeri in Caernarfon, in the older 18-25 category. The film festival is specifically aimed at children and young people.
"It's a photofilm that is about memory and how different pictures will evoke different memories for different people and different emotions," Caryl said.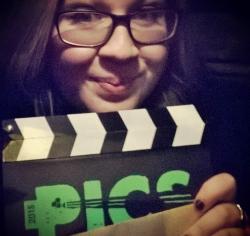 Caryl Burke"I interviewed my mother, my grandmother, and my sister, and showed them three pictures, and they all had different things to say about the same picture."
She said the emphasis on the practical elements on filmmaking on her MA degree had been a great help in putting the film together.
"We're asked to produce a certain quality of work within tight time periods, and I think that is reflective of the kind of work we'll be doing after we graduate."
Listen to an interview with Caryl explaining the idea behind the video.
Publication date: 12 March 2015