MA student triumphs at sci-fi award bash
(Please note: The video trailer contains some disturbing images)
A film put together as part of an MA filmmaking course at Bangor University has won 'Best Sci-Fi Short' at the Philip K. Dick film festival New York.
Writer/director Mathew Owen, now a lecturer at the School of Creative Studies and Media, travelled to the festival to collect the award at Tribeca Cinemas in the city.
The film was shot in 2013 as part of Mat Owen's final MA filmmaking project at the school.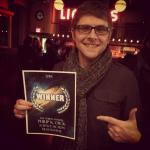 Mathew Owen"The course was instrumental in producing the film from concept to screen and I had great support from the staff who have a wealth of knowledge and experience that helped guide me in realising the film to a professional industry standard," said Mathew.
"It is an amazing experience to win not just for me but also the cast and crew who put a lot of work into the production.
"The crew consisted mainly from undergraduates who in turn gained production experience from working on the film.
"I feel that the win in New York City is a great achievement for everyone involved and as someone born and raised in Bangor, I am proud to have helped gain exposure for the area and the School of Creative Studies."
Turn On tells the story of an android repair man who takes on a job that forces him to question his own morality.
The Philip K Dick festival was founded in 2012 as an outlet for independent science fiction filmmakers to showcase their work.
Publication date: 23 January 2015