More good luck for creative writing PhD student
One of India's bestselling novelists, who is also a PhD Creative Writing student at Bangor University, has released his first non-fiction book.
13 Steps to Bloody Good Luck charts Ashwin Sanghi's attempts to find out if luck is something that some people are blessed with, or a talent that can be learned.
Through entertaining and informative anecdotes, narrations of personal experiences and homespun wisdom, Ashwin offers a new insight into how people can work towards being lucky.
He gave students at Bangor University the following advice to succeed in life:
"The three R's of education used to be Readin', 'Ritin', and 'Rithmetic. The new set of three R's is Raise, Recognize and Respond," he said.
The book argues that through strengthening your network of contacts, you can ensure that your circumstantial luck - being in the right place at the right time - improves.
"If we can find ways to raise the number of opportunities that come our way, recognize them better and respond to them more effectively, all of us could be luckier!"
He said that while he saw himself writing further non-fiction books in the future, his "first love is fiction".
"This is also what my core readership loves. I could never stray away from that," he said.
"But yes, I will try to supplement my fiction with a few non-fiction works and, possibly, newspaper or magazine columns.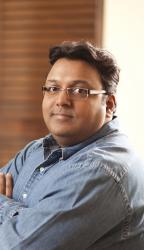 "There are many ideas and concepts that I wish to explore but these do not lend themselves to the fiction genre. Going forward I see myself alternating between fiction and non-fiction."
Bestseller
There was further good news for Ashwin as his novel Private India, alongside co-author James Patterson, launched in the UK and the US and quickly climbed the bestseller lists.
Private India was launched in the UK as a hardback in September 2014 and went into the Sunday Times Bestsellers list at #5.
More recently the American trade paperback was launched in the US in November, and the book hit #6 on the New York Times bestsellers list and was ranked at #4 by Publisher's Weekly.
He said that while writing a book alone was easier, working with James Patterson had been worthwhile.
"It is far easier to sing alone than to sing in a choir. In a choir, all members must hit exactly the notes that are required of them to produce a harmony," he said.
"That pretty much sums up writing as a collaborative effort. But yes, working with a prolific thriller craftsman like James Patterson is a wonderful learning opportunity."
As well as writing books, Ashwin is a also director of the M. K. Sanghi Group of Companies, which has business interests in real estate development, automobiles, manufacturing and engineering.
Publication date: 8 December 2014