Music sweeps the board at the Student-Led Teaching Awards
The staff of the School of Music received a huge vote of confidence from their students at this year's Student-Led Teaching Awards, held at a special dinner attended by over 200 hundred people in the Prichard-Jones Hall on 24 April. Nominations for these awards are made entirely by the students themselves, and the shortlist and winners are chosen by a special committee of students, under the auspices of the Students' Union. This year, Music staff received three awards and five nominations – more than any other School in the University.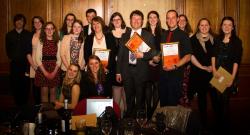 Staff and Students at the Student-Led Teaching Awards: Click on the photograph to see a full-size imageDr Chris Collins, the Head of School, received the Award of Student Engagement, in recognition of his efforts to involve students in every aspect of the School's activity. According to one nomination, 'He does more than anyone I have ever known for the department and he does it with a smile on his face.'
The Outstanding Contribution Award was given to the late Dr David Evans, who lectured at Bangor from 1990 to 2009, and whose death this year was an enormous blow to the many students whom he helped and befriended. One student nomination said, 'He was kind, treated people as if they were family, spoke to strangers like he'd known them for years and was one of the nicest humans I have ever met.' The award was collected by his son Andrew.
The biggest cheer of the evening went to Gillian Griffith, the School Administrator, who received more nominations than any other member of staff in the University. Gillian received the Award for Outstanding Pastoral Support, and was also nominated for Support Staff Member of the Year. Among the accolades read out from the students were the following: 'She looks after us like we are family'; 'She devotes so much of her time to helping students and making us all feel better'; and 'She is what makes this department feel like the safe and caring environment it is'.
Also nominated was Dr Hana Vlhová-Wörner, who joined the School in September 2012, for the award of New Teacher of the Year.
Chris Collins said, 'Together, students and staff form an invincible team in this School, and I'm really touched that the students have made the effort to say thank you.'
Publication date: 18 June 2013