New book by Bangor Professor set to rethink the music of 'America's greatest living composer'
A new book coedited by a Professor of Music and Media at Bangor University aims to rethink the music of one of America's greatest living composers, Steve Reich.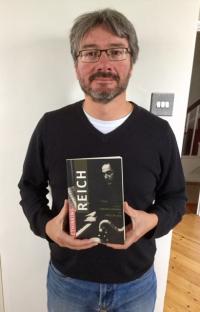 Bangor University's Pwyll ap Siôn has worked alongside Sumanth Gopinath, Associate Professor of Music Theory at the University of Minnesota to coedit Rethinking Reich, the latest in Oxford University Press's Rethinking composers' series. Several chapters in the book by academics from North America, Europe and Australia draw on archival materials housed at the Paul Sacher Archive in Basel, Switzerland, where Steve Reich's sketchbooks, manuscripts, letters, papers and computer files are now kept.
Reich was heralded as one of the early pioneers of musical minimalism in the 1960s and early 70s, but since then has developed a rich and distinctive style that influenced younger generations of classical composers while also inspiring rock musicians such as David Bowie, The Orb and Radiohead.
In 2016, ap Siôn received a Leverhulme Research Fellowship grant, which enabled him to complete work on Reich's music at the Paul Sacher Archive. His chapter argues that the European classical tradition exerted a more powerful hold over Reich's music from the late 1970s onwards.
The book has been hailed by Robert Adlington, Professor of Contemporary Composition at the University of Huddersfield, as 'a major contribution both to our understanding of Steve Reich and to the broader fields of post-1960 experimental and postmodern music.'
Publication date: 1 May 2019