New book grapples with online privacy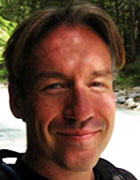 Dr Andrew McStayIn a world dominated by the NSA and Facebook, privacy has never been a more pressing issue for governments and citizens alike.
A timely new book by Dr. Andrew McStay of Bangor University gets to grips with some of the biggest questions in the field.
Privacy and Philosophy: New Media and Affective Protocol deals with issues of transparency, our contemporary techno-social condition, and the nature of empathic media in an age of intentional machines.
The author, of the School of Creative Studies and Media, also advances a wealth of new ideas and terminology, from affective breaches to zombie media.
The book reconstructs our most basic assumptions about privacy, and is a must-read for those in the academic world as well as those contributing to policy.
Mark Andrejevic of the University of Queensland said: "More than at any other time in recent history we are confronted with the pressing questions and contradictions raised by the notion of privacy.
"Andrew McStay's brilliantly illuminating philosophical tour of the concept provides thoughtful and original answers that will serve as touchstones for discussions of privacy in the era of Facebook, NSA data mining, and beyond."
Clare Birchall of Kings College, London said the book is an important contribution to our understanding of how privacy and publicity operate in culture today.
She said: "Offering a fresh and authoritative take on an established concept, McStay avoids the trap of only asking what philosophy can tell us about privacy, but also considers what privacy can tell us about epistemology, ontology, and metaphysics."
The book is published by Peter Lang and can be found here.
Publication date: 10 June 2014