New work by staff composer to be premiered at St David's Hall, Cardiff
A new song-cycle for soprano and orchestra by Pwyll ap Siôn, who is Professor at the School of Music, will receive its premiere at St David's Hall, Cardiff on 1 May. Chaotic Angels will be performed by Welsh National Opera Orchestra under Lothar Koenigs and sung by acclaimed soprano and Cardiff Singer of the World finalist Cèline Forrest.
It sets four poems by famous poet and author Gwyneth Lewis. Lewis, whose words adorn the facade of the Wales Millennium Centre, published a collection of poems in 2005 called Chaotic Angels. 'These brilliant poems became my inspiration for the song-cycle', says Pwyll, who is also currently completing a book on the music of American minimalist composer Steve Reich for Oxford University Press. 'I needed some poems for the piece and happened to hear Gwyneth talk on the radio about her extraordinary life and work. I started reading her poetry and felt an immediate connection.'
The poems range from a person trapped under a crust of ice to an incredibly moving reflection about a young boy dying in a ward in Kabul.
'It's one of the most moving poems I've ever have read,' said Pwyll. 'I was taking a risk by opting to set such powerful words. I emailed the songs to Gwyneth and thankfully she liked them! Wales has so many truly gifted poets. I've been fortunate enough to work with some of them, such as Twm Morys and Menna Elfyn, and now Gwyneth Lewis.'
Chaotic Angels was commissioned by St David's Hall musical director and composer Peter Reynolds.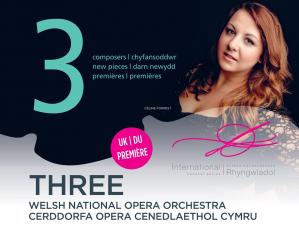 Publication date: 7 April 2016