Performance Department Students hitting the High Notes!
Congratulations to Tom Lazell (pictured below). He has been offered a coveted place at the Royal Welsh College of Music and Drama. Tom is a student of the renowned pedagogue and Bangor University lecturer Marian Bryfdir.
He will take up the Choral Conductor course as an Mmus Student in September this year. Congratulations also go to our first year student Christina Jefferson.
She has been selected to perform in a masterclass with the London Symphony Orchestra's principal clarinet Michael Collins in London in June.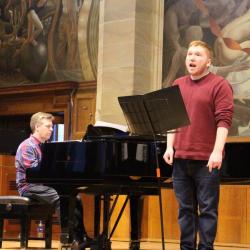 Publication date: 25 April 2016