PhD student breaks new ground with heritage website
A PhD researcher at the School of Creative Studies and Media has helped to create a ground-breaking new website that will benefit the local area.

Susanne Skubik Intriligator, a journalist-turned-PhD researcher in digital media, says that the aim with "Anglesey: A Bridge Through Time" was to get people involved.

The website for Menter Môn allows local enthusiast to share video and images, add events, and link to social media.

Susanne Intriligator, who is funded through the KESS programme, says that the aim is to allow people to contribute to the discussion, wherever they live.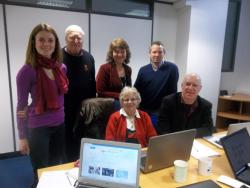 "The last decade has shown us that web-based collaborative projects are transforming our world, changing how we learn, shop, vote, and behave. Look at Wikipedia, YouTube, the Arab Spring," she said.

"I showed Menter Môn that a new website not only needed to integrate social media outlets – Facebook, Twitter, etc – but also the larger collaborative idea.

"Anglesey is full of heritage sites, yes," says Intriligator, "but also of heritage enthusiasts. If you want long-term sustainability -- plus the kind of bustle that drives up Google rankings-- get people involved!

"Bring in voices from the community, invite visitors to share comments, photos and memories, spark conversation with competitions and quizzes."

Neil Johnstone, archaeologist and Menter Môn's heritage officer, said they turned to Bangor University for advice on the best way to go about creating the website.

"Anglesey is chock-a-block with important heritage sites – more than just about anywhere else in the UK," he said. "Most of them are set within stunning natural scenery and have fascinating stories to share with visitors.

"We needed a new – and sustainable – way to convey these stories to our visitors, both current and potential."

Susanne Intriligator's work was part-funded by the EU's Convergence European Regional Development Fund through the Welsh Assembly Government.

Click here to view Anglesey Heritage's website
Publication date: 7 October 2013