Prestigious Bryn Terfel Scholarship awarded to Bangor Music Student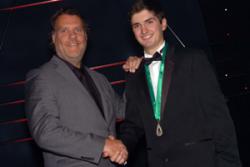 International Opera star Bryn Terfel awards the Scholarship to Huw Ynyr.A Music student at Bangor University is to be congratulated for winning the Bryn Terfel Scholarship this year.
In a competition which revealed high standards, and which was broadcast live on S4C on Sunday 14.10, Huw Ynyr, a singer, competed against fellow Bangor Music student, Lois Eifion, who is studying a postgraduate MA degree, and four others.
The winners of the main performance competitions at the Urdd Eisteddfod Scholarship competition are invited to compete for the Bryn Terfel Scholarship. Huw was presented the Scholarship Prize of a Medal and cheque for £4,000 by Bryn Terfel.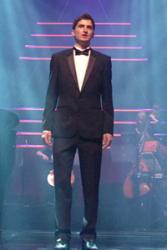 Huw Ynyr performing at the Competition.For the Competition, Huw presented a 12 minute programme to a panel of specialist judges. Huw sang O'r Dwyrain mae'r Golau, Alessandro Acarletti; Pan ddaw'r Nos, Meirion Williams And Chitarrata Abruzzese, Francesco Tosi.
Chris Collins, Head of the School of Music said: "I'm very proud of Huw's success, which acknowledges his special talents. He fully deserves it. His singing voice is really unique: it's beautifully controlled, but also natural and versatile. He's also a great student, hard-working and dedicated, and he takes a full role in university life.
"Congratulations also to Lois Eifion, another Bangor music student, who was pipped at the post."
The competition standard was very high, but the judges were unanimous in awarding the Scholarhip to Huw Ynyr. According to Gavin Ashcroft, one of the judges:
"We had a feast for the eye and ear. It was a delight to see so much variety on the stage, and the standard so high. In the end it came down to who displayed the standard most ccnsistently.

"What was so special about Huw was that there was something endearing about him, and He has a voice like velvet.
"He performed wonderfully and I'm sure that he will develop to be an incredible singer".
Huw Ynyr said: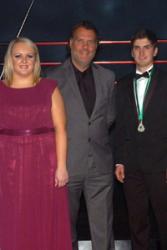 Huw Ynyr and Lois Eifion with Bryn Terfel."They say 'third time lucky, but I've succeeded on my second attempt! Performing was a fantastic experience, and I think everyone was more than deserving of the Prize, so I had a bit of a surprise when my name was announced."
"I'm going to save the money for the time-being, and see how my voice develops and then in years to come, when it's settled, I hope I can study voice further."
The aim of the Scholarship is to nurture the talent of some of Wales' leading young performers, so that they have opportunity to develop within their fields. In advance of the Competition, each received Master classes in their chosen performance areas.
Huw Ynyr won an Excellence Scholarship of £3,000 to Bangor University and is now in his third Year studying Music at Bangor.

Huw said: "I chose to study at Bangor as the course looked good and I was determined to study in Wales."

Huw is a familiar face on the stages of the Urdd and National Eisteddfodau and the cerdd Dant festival. He won the Urdd Eisteddfod Cerdd Dant and Solo for ages 19-25 this year and also won the Blue Ribbon at the Inter Collegiate Eisteddfod earlier this year.
Lois Eifion won the solo folk song and instrumental solo at the Urdd Eisteddfod and the first and second prize in the Musician's Medal at the Inter Collegiate Eisteddfod.
Publication date: 15 October 2012