Robotic acting earns student award nomination
A Bangor University student's robotic performance has won her an acting nomination from a prestigious film festival.

Abigail Gregory was nominated for the MMBF Rising Star award for the part of android Viva, in the film Turn On which was directed by fellow MA-student Mathew Owen.

The film had already won an award for 'Best Sci-Fi Short' at the Philip K. Dick film festival New York.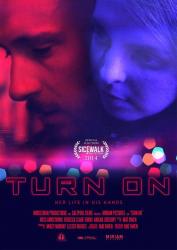 Abigail, who completed a Creative Studies BA and Creative Practice MRes at the School of Creative Studies and Media, Bangor, said that it was great to see the hard work and dedication of the whole cast and crew was being recognised.

"It means so much to be nominated for an award, especially for a film I am so proud of and enjoyed making so much," Abigail said.

"Turn On was made by a lot of undergraduates, post-graduates and staff at Bangor and it was a real pleasure to work with them all. I fell in love with the script when I read it and was really grateful to Mat for the opportunity to be a part of it.

"I was able to attend one screening in London, where it was shown before an anniversary screening of Blade Runner. We did a Q&A after the screening and it was really great to talk about the film in front of a group of people who also love sci-fi!"

Studying at Bangor

Turn On tells the story of an android repair man who takes on a job of fixing the exploited android, which forces him to question his own morality.

The film was shot in 2013 as part of Mat Owen's final MA filmmaking project at the school, and he enlisted the help of his fellow staff and students in order to complete it.

Abigail said that studying at Bangor helped her develop her acting talent.

"In the course we looked a lot at developing character and expressing yourself in different ways, which was really important when it came to playing a silent character in the film," she said.

"The course also put me in touch with the people who made the film: Mat Owen, the writer/director, Lester Hughes and Mikey Murray who produced it, and my partner Nathan Moore, who worked on set design. I've worked with them all on various projects but this is by far my favourite.

"I'm not working on any acting projects at the moment - the other side of my degree was creative writing, and I'm currently focussed on finishing the final draft of my first novel, plus Nathan and I are expecting our first child soon so acting may have to take a back seat for the next year or so!"

The film can now be watched in full here: https://vimeo.com/96843614
Publication date: 22 October 2015