School Swap: Korea Style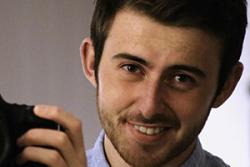 MA Film Making student Rory Farmer.MA film making student Rory Farmer, from the School of Creative Studies and Media, has recently returned from a filming project in South Korea. Felinheli-based company Darlun TV have produced a two-part documentary for BBC Cymru Wales, School Swap: Korea Style, in which three teenagers from Pembrokeshire had a taste of what is regarded as one of the best education systems in the world.
Rory worked alongside Denbigh-based cameraman Richard Longstaff and a local freelance crew working with producer Arwyn Evans. The programmes are presented by Siân Griffiths, Education Editor for The Sunday Times.
The first part of the programme is broadcast on Monday, November 28th on BBC One Wales at 10.40pm, with the second part on Tuesday 29th November at 22.40. The programme is also available on BBC iPlayer.
Rory said: "The opportunity came through the School of Creative Studies and Media. I sent off a CV and a showreel of films I'd worked on during my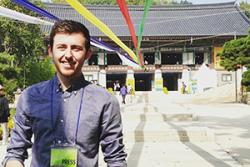 Rory on location in South Korea.undergraduate course here at Bangor. All in all, within two weeks I was there in Seoul with a crew of industry professionals whom I'd never really met before!"
"My studies here at Bangor really helped to prepare me for the work. I had the confidence in using the equipment and I had the confidence in my own creativity to be expressive with the work I was carrying out! But the crew were fantastic with me, it was an intense but rewarding environment. I learnt so much from the experience, both in the technical skill of camerawork and also about the culture there in South Korea!"
See also: http://www.thetimes.co.uk/past-six-days/2016-11-27/news-review/hands-up-all-you-tiger-pupils-leaving-british-children-far-behind-97crqsqj8
Publication date: 28 November 2016