Sioned wins the Musicians' Medal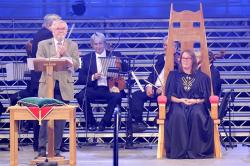 Photo credit: lluniaullwyfan.comCongratulations to musician Sioned Eleri Roberts, a former student of the School of Music, who won the Musician's Medal at this year's National Eisteddfod in Carmarthenshire.
This year, the Medal was presented for work composed for a string ensemble (3 violins, 3 second violins, 2 violas, 2 cellos and 1 double bass), in one movement or more, of no more than 7 minutes. The Medal is presented by the Welsh Music Guild and the winner will receive £500, donated by Rees Enston Tydfil, in memory of her daughter, Angela Rees Enston. Sioned will also receive a £2,000 scholarship from the Eisteddfod to boost her career.
The judges were Lyn Davies and Euron J Walters, and during the stage adjudication Lyn Davies said, "'Chwalfa' by 2.4.7. is the most successful entry by far. The composer has found a way to escape from the rut of the minimal approach and present something dramatic and magical. The title is entirely appropriate. From the beginning we have a lovely figure consistent in the low parts, and step by step it is developed in a subtle and fine way, until, about halfway through the piece, it shatters under a disturbing attack. Then there is a harrowing violin cadenza, before trying to pull it all together, with an echo of the past. The finale is played in defiant unison.
"The work of 2.4.7. has appealed more and more when considered further and based on sound technique, the structural and freshness assurance which captures the title of the piece, 'Chwalfa'. So 2.4.7. deserves the Medal and all the accolade it brings this year. "
Sioned Eleri Roberts is a clarinettist, and lives in Bangor. She graduated from the University of Wales Bangor with a BMus in 2003, and in 2005 she was awarded a scholarship to study postgraduate performance at Trinity College of Music, London. In 2011, she received a KESS scholarship to study for her Masters in Bangor, and received composition training from Pwyll ap Sion and Stephen Montague.
Sioned is a performer, and her main interest is contemporary works (and the twentieth century) for solo clarinet. She has performed abroad many times, and in 2012 she was able to tour with Dweezil Zappa (son of composer Frank Zappa) and his band Zappa Plays Zappa. Sioned has worked often with Ensemble Cymru as a performer and as a workshop leader (music and composition), and when an opportunity arises, she enjoys performing some of her own compositions for solo clarinet.
Sioned is a clarinet tutor at Bangor University and the William Mathias Music Service.
She has competed on the Eisteddfod stage in the Blue Riband (2005), and has been successful in the competition for the Woodwind Solo several times in the past. It is the first time she has competed in the composition section.
Dr Chris Collins, Head of the School of Music, said: 'This is a special commendation for Sioned and worthy recognition of her talent and her innate ability. As a specialist in contemporary music, and as one of our clarinet tutors here at the School, it is a delight to congratulate Sioned on her success."
Sioned will join Bangor University's prominent musicians who have already won the Composer's Medal, including Pwyll ap Sion, Peter Flinn, Guto Puw and Owain Llwyd.
For more information go to www.eisteddfod.org.uk.
Related stories:
Bangor student to perform with Frank Zappa's son
Publication date: 7 August 2014