Sir Geraint Evans Award presented to Bangor Music Lecturer and Composer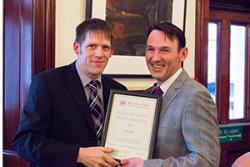 Dr Guto Puw receives the Award from Dr Jeremy Huw WilliamsDr Guto Pryderi Puw of Bangor University received the Sir Geraint Evans Award from the Award's inaugural recipient, Dr Jeremy Huw Williams, on behalf of the Welsh Music Guild at an event at the Cardiff and County Club recently (30 November 2014).
The Award recognises Dr Puw's contribution to the music of Wales, as composer, lecturer and Founding Artistic Director of the Bangor New Music Festival.
Guto said: "It's a great honour to receive the Award and a great feeling to realize that my peers within the music world appreciate my efforts. I feel so lucky to be able to spend so much of my time pursuing something which is of such great interest to me, namely, music, whether as a composer, lecturer or part of the Bangor New Music festival team. I will certainly treasure this Award for year to come."
Dr Jeremy Huw Williams commented, 'As one who has commissioned many new works from Guto, and having performed on several occasions at the Bangor New Music Festival, it will be an honour to present the 2013 Sir Geraint Evans Award to the composer on behalf of the Welsh Music Guild.
Over the years, Guto has made his mark both nationally and internationally, as one of the leading composers of his generation: he was appointed BBC' NOW's inaugural Resident Composer in 2006, and his Concerto for Oboe won the British Composer Prize in 2007. A number of his compositions have been included in national festivals and concerts internationally, including in the USA and Italy. This year the Bangor University Singers performed his Tair Cerdd Dylan Thomas (Three Dylan Thomas Poems) at the ''My Friend Dylan Thomas' festival at Bangor University and earlier in the year, his Reservoirs CD containing his orchestral compositions was released on the Signum Records label. Guto is currently working on his first operatic commission; Y Tŵr (commissioned by Theatr Gerdd Cymru) to be performed by Theatr Gerdd Cymru in Pontio during the spring of 2017.
The Welsh Music Guild is established for the purpose of advancing the education of the public by encouraging the understanding and appreciation of the music of composers of Welsh origin and the composers of any nationality resident in Wales.
The Guild will also encourage a high level of performance practice and foster awareness and observation of professional issues within Wales and to this end will encourage performers and musicologists to take an active role in workings of the Guild.
Publication date: 3 December 2014