Student journalist interviews Prime Minister
A third year Creative and Professional Writing Student has interviewed the Prime Minister of Finland as part of her final journalism coursework.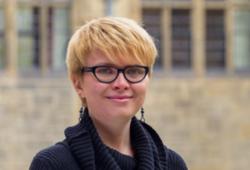 Ida Väisänen interviewed Prime Minister Alexander Stubb as part of the Practical Digital Journalism news portfolio assignment.
She got the idea of e-mailing the Prime Minister while thinking of stories for the student magazine, Seren.
"I was expecting to get an email of his press officer three weeks later saying he can't do it, but he emailed me back personally two hours later," she said.
"A few days after that there was an event near my house where you went to meet candidates, and I got to meet him personally.
"After I introduced myself he surprisingly enough still remembered me and reminded his assistant to pass on my e-mail when I sent him the questions. Once I did, his reply was very prompt.
"I am so grateful to Mr. Stubb for the opportunity to interview him. Getting to say that you have interviewed a PM as a student journalist is amazing."
New skills
Ida Väisänen is one of the first year of students who have completed three new practical journalism modules.
These modules emphasize essential journalism skills, such as interviewing, writing hard news and feature articles, media law, and creating multimedia content.
The students were set virtual newsroom tasks every week where they were asked to produce stories before a set deadline.
"I feel like the skills I've acquired from practical journalism modules really came into a good use when doing this interview," Ida Väisänen said.
"For one, I was confident enough that I could do it. I knew how to go about getting the interview and write the questions.
"Having the opportunity to interview one of the key politicians of my country was so exciting but the pressure to come up with good questions was immense.
"After getting the material the editing process was easy as I had plenty of experience of doing so from the virtual newsrooms.
"That's something concrete these modules have taught me. I was not scared to approach the PM, and I knew how to edit what I got."
Journalism lecturer Ifan Morgan Jones said he was impressed with his students' dedication to their craft.
"This group of students have unearthed many good stories over the past few years, but this is the first time anyone has interviewed a Prime Minister," he said.
"This is the first group to go through all three modules since I started teaching here and I'm glad that they're finding a practical use for the skills that they've been taught over the last three years.
"A mastery of core journalism skills gives student journalists the confidence to be able to approach anyone and conduct a professional interview and a publishable article, audio or video story."
Publication date: 7 May 2015