Student wins cash for climate change film
A PhD student at the School of Creative Studies and Media has won two grants in order to produce a short film on the benefits of a new technique to tackle climate change.

Michela Cortese received the money from the Welsh Government to make a fictional film that explains carbon capture to stakeholders and policy makers.

She hopes to encourage them to invest in the development of new material that can facilitate the capture and conversion of CO2 to fuel.

The student, who is studying risk communication, will be working in conjunction with Dr Enrico Andreoli of Swansea University's Engineering Dept.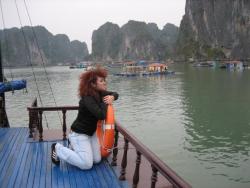 "Being involved with this project is very satisfying for me on a personal level, as it gives me a sense that my research is something that will have a useful outcome for society," she said.

"Tackling climate change has always been important to me and the film will be a way of promoting the conversion of CO2 to make energy, and attract investors.

"Using fear as a means of convincing the public to act on climate change has failed as a strategy. We need positive messages in order to encourage people to act.

"Explaining the science to an audience is very complicated, so the hope is that the film will be able to engage viewers with the project.

"I would like to thank Dr Enrico Andreoli as I would have not been able to develop the project without his support and expertise."

Narrative

Michela Cortese said that she was also very thankful to Dr Vian Bakir and Dr Andrew McStay from the School of Creative Students and Media for their expertise in the field of risk communication.

She will also be joined on the project by the school's filmmaking lecturer Mat Owen and graduate teaching assistant John Finnegan who will provide their own directing and scriptwriting expertise.

The film will also feature one of the projects carried out by National Research Network (NRN) in Advanced Engineering and Materials in Wales and emphasize NRN's work in advanced engineering.

Michela said that developing the film should be useful for her ongoing PhD on the role of narrative in visual communication of environmental risks.
Publication date: 24 November 2015