Success for Ensemble Cymru talent
A former Bangor University music student who is one of renowned musical organization Ensemble Cymru's rising stars is celebrating an exciting new job.
Collette Astley-Jones who completed her Masters in Music at Bangor in October has been snapped up by the Royal Liverpool Philharmonic Orchestra for the role of Artistic Planning and Ensemble Assistant. Prior to this Collette worked as the orchestral manager for the Bangor University based Ensemble's Peter and the Wolf National Tour.
Collette explained what her new role involves:
"I'll be working with both the artistic planning team and also the orchestral management team as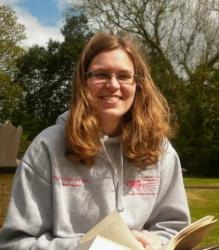 my role is the link between the two. So I'll be involved in running the rehearsals and concerts, also looking after the soloists and conductors but also to advise the artistic team on any practical aspects from an orchestral management point of view."
Collette got her first taste of orchestral management while a student at the School of Music. During this time she became the stage manager for the University Orchestra and the Music Society where she was also the chairperson. Collette also became involved with Ensemble Cymru while at university, first as a volunteer and later winning an internship with the Ensemble as part of her Masters scholarship, as Collette explained:
"Because of my interest in orchestral management, Ensemble Cymru offered me the opportunity to assist at its concerts. I began by helping with the stage and event management of the Ensemble's Music at Bangor series, and then moved on to working on the tours including the national Living Waters tour in 2011 and the Peter and the Wolf tour earlier this year. The experience I've gained through Ensemble Cymru has been invaluable and it's meant I've been able to get my first step on the ladder in what can be a very challenging industry to break into."
Ensemble Cymru's Artistic Director, Peryn Clement-Evans was quick to congratulate Collette on her success.
"All of us are thrilled at Collette's richly deserved success. Since coming to us several years ago while a student at Bangor University, Collette has always demonstrated a real passion to become an orchestral manager; only recently she did an amazing job managing the orchestra for the Ensemble's Peter and the Wolf tour (March 2014).
"We wish Collette the very best in her exciting new role."





Publication date: 29 April 2014