Theatre lecturer celebrates double success
A Bangor University lecturer has received £5000 from the Arts Council of Wales in order to trial a 'Performance Lab' that will explore new ideas in Welsh theatre.
The 'Performance Lab' at the School of Creative Studies and Media will build a community of professional actors and theatre students in order to explore the contemporary aesthetic of Welsh Theatre.
Theatre Director and Researcher, Ffion Haf, is in the process of working with around 20 professional actors and theatre students, who are currently taking part in this research.
Ffion Haf describes the Lab as a safe environment for conceptual inquiry, professional development in performance, and the opportunity for makers to come to together in this region of North Wales to explore new ideas in the contemporary theatre.
The first lab was at the beginning of March, which explored vocal and ensemble work, led by Voice/Text Coach, Nia Lynn, who works regularly with the Royal Shakespeare Company and Ffion will be continuing to explore how new work can be developed from this ongoing process of research.
Drama success
Ffion Haf is also celebrating the success of the play 'Mrs Reynolds a'r Cena Bach', (Mrs Reynolds and the Ruffian by Gary Owen, translated by Meic Povey) which scooped one of the top prizes at the 2017 Wales Theatre Awards.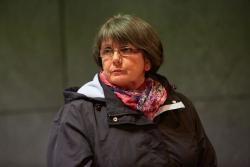 Siw Hughes as Mrs Reynolds (Mark Douet)
Siw Hughes won the award for Best Female Performance in the Welsh Language for her role in the production as 'Mrs Reynolds'. Mrs Reynolds a'r Cena Bach' was also nominated for Best Male Performance in the Welsh Language and Best Production in the Welsh Language. Ffion Haf directed the play for the Welsh Language National Theatre (Theatr Genedlaethol Cymru) and will soon be working with the company again, in collaboration with Music Theatre Wales, supporting renowned international opera director, 'Michael McCarthy' on their brand new Opera, 'Y TWR' by one of Wales's most prestigious playwrights, 'Gwenlyn Parry'.
Publication date: 29 March 2017