Two Bangor Music Staff Represented in Recent Ashgate Publication on Minimalist Music
Two members of staff from the School of Music have produced important chapters for The Ashgate Research Companion to Minimalist and Postminimalist Music, recently published by Ashgate Press. Tristian Evans's 'Analysing minimalist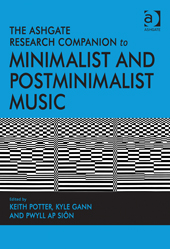 and postminimalist music: an overview of methodologies' and Pwyll ap Siôn's 'Reference and quotation in minimalist and postminimalist music' form two of the volume's twenty-two chapters, which includes a foreword by famous American composer Steve Reich.
Ap Siôn also co-wrote the introduction and co-edited the volume along with Keith Potter (Goldsmiths, University of London) and Kyle Gann (Bard College, USA). In addition, Twila Bakker – PhD student at Bangor and recipient of one of its 125 Anniversary Research Scholarships – compiled the book's bibliography and index. The Ashgate Research Companion to Minimalist and Postminimalist Music forms part of Ashgate's Research Companion series, whose aim is to offer a comprehensive and authoritative state-of-the-art review of current research in a particular area.
The volume on minimalist and postminimalist music has already been praised as 'an intelligent and engaging exploration of the core and tangential repertoire … [it] adds up to a fascinating study and will be much valued by non-academic and academic readers both within and outside of the academy alike' (Philip Thomas, University of Huddersfield).
More information on the book can be found on the following link:
http://www.ashgate.com/isbn/9781409435501

Publication date: 19 November 2013